You Gonna Eat That?
February 21, 2011
The complex issues surrounding our daily food choices and their potential impact on our environment – locally and globally – were addressed during a two-day symposium. "You Gonna Eat That? The Ethics and Economics of Food Choices" took place on Feb. 23-24.

It was sponsored by DePauw's grant from The Andrew W. Mellon Foundation in support of environmental education and by The Janet Prindle Institute for Ethics. The $595,000 three-year Mellon grant is intended to help DePauw enhance course offerings in environmental studies and create new and innovative opportunities related to interdisciplinary environmental education for students and faculty members. Read more about the grant in this previous story.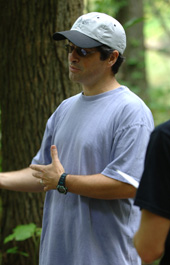 Cocoordinators of both the grant and symposium are James "Jim" H. Benedix, professor of biology, and Michele T. Villinski, associate professor of economics and management and chair of the Economics and Management Department.

"The topic of the symposium addresses really complicated issues for which there are no easy answers," Benedix (at left) says. "It's an opportunity for all of us to grapple with the complexity of an issue and talk about it."

Frances Moore Lappé, award-winning author of Diet for a Small Planet and co-founder of Small Planet Institute, is the keynote speaker. She will speak Wednesday, Feb. 23, at 7:30 p.m. in the Memorial Student Union Building ballroom. The presentation is free and open to the public.

Lappé (below right) has written 18 books. First published in 1971, Diet for a Small Planet has sold 3 million copies. Other titles include World Hunger: 12 Myths and Democracy's Edge: Choosing to Save Our Country by Bringing Democracy to Life.

Villinski says, "It's clear from the title of the keynote speech, 'From Famine and Froot Loops® to Food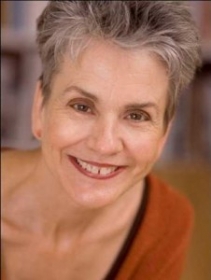 Democracy: Turning Crisis into Liberating Action,' that it will be engaging and accessible. "Lappé is thoughtful about food choices and also thinks about what our choices imply for society and democracy. I'm looking forward to hearing her insights about strategies for addressing food, hunger, and environmental challenges."

A complete schedule of events is available here (PDF).

"I'm excited by all of the work that has been done by student groups and faculty members – in their individual courses – related to this topic," Villinski says. "This is a great chance to highlight some of that and pull it together. The symposium is a big event to celebrate."

The first event is a student panel on Wednesday, Feb. 23 at 4 p.m. at the Prindle Institute. It will highlight students' interest in campus food-related issues and their activism in making DePauw's food service more sustainable. The panel includes Anthony M. Baratta '10, DePauw Environmental Policy Project (DEPP) assistant director; Jeanette L. Renshaw '11; and Tyler J. Hess '13.
"We have a wide range of sessions that involve a broad swath of participants from the DePauw and Greencastle communities," Villinski says. "The community panel on Feb. 24 at 6 p.m. at the Prindle Institute is a celebration of the many successful initiatives that Greencastle has been working on for a long time. We really want to celebrate those efforts."

On Thursday, Feb. 24, everyone is invited to a lunch at noon in the Memorial Student Union Building ballroom. Participants are encouraged to R.S.V.P. by e-mail to Villinski or Benedix.


"Everyone is invited to the discussion but asked to bring their own lunch," Villinski (at left) says. "The invitation is to the conversation, and we'll use the lunches as a platform for discussion. Defending what we choose to eat happens a lot in our daily lives. We will also take it a step further – to think more about ethical and environmental concerns.

"We have a lot of alums participating, which is really deliberate on our part – trying to appeal to different audiences and bringing them together to talk about these issues."

Alumni include Nathan M. Boone '91 community supported agriculture farmer; Brook J. Havlik '09, sustainable seafood educator from the Shedd Aquarium; Eric G. Johnson '94, fisheries biologist from the Smithsonian Environmental Research Center; Anna C. Kendall '02, organic vegetable grower; David "Dave" W. Manly '77, vice president and general manager of Away From Home and Consumer Direct Divisions of Keurig Coffee; Robert "Bob" M. Steele '69, director of The Janet Prindle Institute for Ethics; and Thomas K. Thornburg '73, managing attorney at Farmworker Legal Services.

"Ethical and Environmental Challenges for Industry" is the title of the closing panel discussion on Thursday, Feb. 24, at 7:30 p.m. in the Union Building ballroom. Guest speakers are Christy Cook, Sodexho Sustainability Support, and Manly.

Villinski says, "We invited Christy and Dave (Manly) because they are involved in large international businesses related to food – or coffee, in Dave's case – to talk to us about some of the dilemmas they face day to day. What are the tensions they see between bottom-line profit and environmental and ethical issues, and when do those two goals work well together? I think they'll both have some interesting insights to share."
Back