Pulitzer Prize-Winner Aaron Jay Kernis is Composer-in-Residence for 2011 'Music of the 21st Century'
February 24, 2011
February 24, 2011, Greencastle, Ind. — The DePauw University School of Music will welcome Pulitzer Prize-winning composer, Aaron Jay Kernis, who will begin a residency under the auspices of the "Music of the 21st Century" series on Wednesday, March 2. The visit by one of America's most honored composers will culminate with a final concert on Sunday, March 6, at 3 p.m. in the Green Center for the Performing Arts, Kresge Auditorium. That concert, and two others during the week, are open to the public and free of admission charge.

Winner of the coveted 2002 Grawemeyer Award for Music Composition and one of the youngest composers ever to be awarded the Pulitzer Prize, Kernis is among the most esteemed musical figures of his generation. The New York Times cited his "fearless originality [and] powerful voice." Each new Kernis work is eagerly awaited by audiences and musicians alike, and he is one of today's most frequently performed composers. His music, full of variety and dynamic energy, is rich in lyric beauty, poetic imagery, and brilliant instrumental color.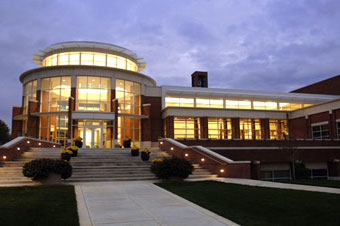 Music of the 21st Century, an annual event at DePauw, brings to campus some of the world's most outstanding and recognized composers to work side-by-side with the students at the School of Music. Previous visitors have included Joan Tower, Samuel Adler, Chen-Yi, Jake Heggie, George Crumb, Augusta Read Thomas, Tania León, Frederic Rzewski and Martin Bresnick.
In preparation for Kernis' visit as composer-in-residence, students have been studying and practicing many of his works that will be performed in a series of concerts throughout the week. Kernis will participate in classes, sit in on rehearsals, and spend time in studio sessions as part of the residency. Kernis will attend classes from many disciplines including senior seminar, conducting, symphonic literature, and 20th Century Music, among others. Friday, March 4, he will be available to meet with students, faculty, staff, and others at an informal "brown bag" conversation over lunch in the Green Center's Great Hall. The session will begin at 11:40 a.m.

Performances featuring the award-winning work of Aaron Jay Kernis will be presented Thursday and Friday (March 3 & 4) evenings at 7:30 p.m.
in Thompson Recital Hall. DePauw School of Music students will present Thursday night's concert, "Chamber Music with Aaron Jay Kernis," performing a variety of solo and small ensemble pieces such as: Meditation (in memory of John Lennon), Stein Times Seven; Brilliant Sky, Infinite Sky; Songs of Innocents Book 2; and Valentines. Friday's concert will be performed by DePauw faculty members, and will feature Kernis' Superstar Etude No. 3, Ballad for 'cello and piano, Song of Innocents, and Air.

The final concert at 3 p.m. Sunday will include the four major ensembles of DePauw University: the University Orchestra, under the direction of Orcenith Smith; the Chamber Singers and University Chorus, conducted by Jan Harrington; and the University Band, directed by Craig Paré.
Kernis has taught composition at the Yale School of Music since 2003. His music figures prominently on orchestral, chamber, and recital programs worldwide and he has been commissioned by many of America's foremost performing artists, including soprano Renee Fleming, violinists Joshua Bell and Nadja Salerno-Sonnenberg, soprano Dawn Upshaw, and guitarist Sharon Isbin, and by institutions including the New York Philharmonic, San Francisco Symphony, Birmingham Bach Choir, Minnesota Orchestra, and Los Angeles and Saint Paul Chamber Orchestras, the Walt Disney Company, James Conlon's first season at the Ravinia Festival, Chamber Music Society of Lincoln Center, and
Rose Center for Earth and Space at the Museum of Natural History in New York, among many others. His music is available on Nonesuch, Phoenix, New Albion and Argo and CRI.

Kernis received the Grawemeyer Award for the cello concerto Colored Field and the 1998 Pulitzer Prize for his String Quartet No. 2 ("musica instrumentalis"). He has also been awarded the Stoeger Prize from the Chamber Music Society of Lincoln Center, a Guggenheim Fellowship, the Rome Prize, and received Grammy nominations for Air and the Second Symphony.

He has served as composer-in-residence for the St. Paul Chamber Orchestra, Minnesota Public Radio, and the American Composers Forum, and, since 1998, as new music adviser to the Minnesota Orchestra. Kernis is also chairman and co-director of the Minnesota Orchestra Composer Institute, a program that gives young composers the opportunity to hear their works played by one of the world's great orchestras.

Music of the 21st Century is generously underwritten by Robert A. and Margaret A. Schmidt, both 1969 graduates of DePauw University.
For more information, click here.
Back