DePauw Men Advance to SCAC Basketball Semifinals Following Win over Austin
February 25, 2011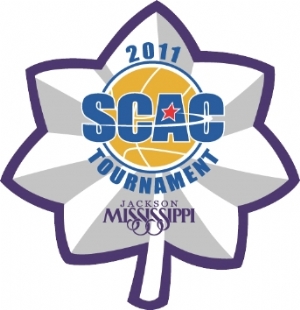 February 25, 2011, Jackson, Miss. — DePauw trailed by as many as nine points early in the second half, but used an 18-4 run to take the lead for good in a 61-56 Southern Collegiate Athletic Conference Tournament quarterfinal win over Austin.
The Tigers improved to 18-8 on the season and advanced to Saturday's 5 p.m. CST semifinal game where they'll face 16-10 Trinity. Trinity defeated Rhodes, 62-42, in this afternoon's other quarterfinal game at Belhaven University.
Austin never trailed in the first half and held a 30-26 halftime lead. The Kangaroos' Scott Straley scored the first five points of the second half to push Austin's lead to 35-26.
DePauw's Ryan Sever countered with a layup and a jumper before Sean Haseley hit two free throws to cut the Kangaroos' lead to 35-32.
Austin still held a 39-35 lead with just under 15 minutes left before Haseley knocked down a three and Barry Flynn hit back-to-back layups, his first DePauw points, to give the Tigers a 42-39 lead with 13:12 remaining. Tommy Weakley's bucket capped a 9-0 DePauw run and extended DePauw's lead to five.
The Tigers led 58-54 with 3:45 left and neither team scored until Josh Saunders cut the margin to 58-56 with 47 seconds remaining. Ryan Sever's offensive rebound with 10 seconds left was followed by a Haseley free throw with six seconds remaining giving DePauw a 59-56 advantage.
DePauw fouled the Kangaroos' Ransom Okpala who missed the front end of the one-and-one. Steve Lemasters sealed the win with a pair of charity tosses with five seconds left.
Michael Wilkison paced the Tigers with 14 points, while Weakley added 11. Sever grabbed a game-high 10 rebounds and Wilkison dished out five assists and had three steals.
Walter Phillips led the Kangaroos with 14 points and Straley added 10.
DePauw shot 42.6 percent for the game including 50 percent in the second half, while Austin hit 44.0 percent.
Austin finished its season at 12-14.
Follow DePauw Athletics on Twitter | Become a Fan of DePauw Athletics on Facebook
Back