Tenth-ranked DePauw Women Win 10th SCAC Title; Headed to Eighth Straight NCAA Tourney
February 27, 2011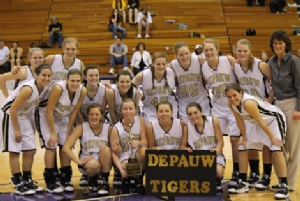 February 27, 2011, Jackson, Miss. — Tenth-ranked DePauw closed the first half with a 16-6 run and opened the second with an 8-2 stretch to pull away from Hendrix on the way to an 80-71 win in the Southern Collegiate Athletic Conference Women's Basketball Tournament championship game.
With the win, DePauw improved to 25-3 and earned the SCAC's automatic qualification into the NCAA Division III Championship. The SCAC tournament title was DePauw's sixth since the event began in 2003 and the Tigers' 10th SCAC title overall in 13 years of conference play. Hendrix finished its season at 17-11.
Hendrix led through much of the first half and held a 23-19 lead after Jamie Tate's layup with 6:05 remaining.
The Tigers scored the game's next 12 points to take a 31-23 lead with 2:22 remaining in the half and went to the intermission with a 35-29 advantage.
Lauren Goff and Kate Walker hit back-to-back threes early in the second half to push the lead to double digits for the first time at 43-31. Hendrix was still within nine at 52-43 after Jordan Henderson's three with 9:58 left.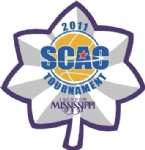 DePauw's Ali Ross responded with a bucket and a three before Walker knocked down a pair of free throws to give the Tigers a 59-43 lead with 8:18 remaining.
The margin reached as many as 20 points with just over three minutes remaining. The Warriors scored the game's final seven points to trim the final margin to single digits.
Five DePauw players scored in double figures led by Katie Mathews and Alex Gasaway with 14 each. Walker followed with 13 with Ross adding 11 and Goff 10. Walker grabbed a career-high 10 rebounds for her first collegiate double-double and added a team-high four assists.
Christina Byler led Hendrix with 25 points, while Tate posted a double-double of 10 points and 11 rebounds. Katy Ashley-Pauley dished out five assists in the loss.
Mathews became the 12th player in DePauw women's history to top the 1,000-point plateau when she hit a jumper with 1:13 left in the first half. She was named the tournament Most Valuable Player and was joined on the all-tournament team by Walker and Katie Aldrich. Byler and Southwestern's Shae Seagraves also earned spots on the team.
DePauw shot 46.9 percent for the game and held a 45-32 edge on the boards, while the Warriors hit 39.1 percent from the field including 8-of-17 from three-point range. The Tigers held a 21-8 advantage in second-chance points.
The NCAA Selection Show will air online at 3 p.m. tomorrow and full details will be posted later.
Follow DePauw Athletics on Twitter | Become a Fan of DePauw Athletics on Facebook
Back