Newspaper Foresees "Ferocious" NCAA Tournament Matchup Between DePauw and Hope
March 4, 2011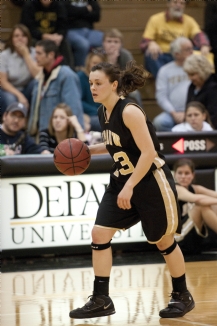 March 4, 2011, Greencastle, Ind. — "A ferocious NCAA tournament opener for the Hope College women's basketball team features a streak of Tigers the Flying Dutch know well," begins a story in today's edition of Michigan's Holland Sentinel. "Tenth-ranked DePauw (Ind.) University is standing in Hope's way for the second consecutive season and the third time since 2006. Tipoff is tonight at DeVos Fieldhouse following the 5:15 p.m. first-round game between defending national champion, No. 15 Washington University in St. Louis, and unbeaten and eighth-ranked Denison (Ohio)."
DePauw, champion of the Southern Collegiate Athletic Conference, enters the game with a 25-3 record; Hope is 26-2.
"We can't afford any lapses this weekend," Hope coach Brian Morehouse tells the newspaper. "This is the best team I've ever played in the first round of an NCAA
Tournament. If we do, we probably will lose and go home."
Alan Babbitt's full article, which is accompanied by a photo of DePauw senior Emily Pearson, can be accessed at the Sentinel's website.
Another game preview can be found at the DePauw athletics page.
Today's game can be heard on student radio station WGRE (91.5 FM or via this link). You're also invited to visit the regional tournament's online page.
Back