Lt. Governor Will Announce Details of 'Stellar Communities' Grant Thursday at Public Event
March 8, 2011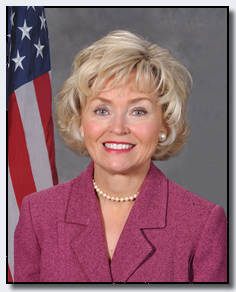 March 8, 2011, Greencastle, Ind. — The campus and community are invited to join in a celebration of news that Greencastle has been named a "Stellar Community" at a 1 p.m. event this Thursday, March 10. Indiana Lieutenant Governor Becky Skillman (pictured) will join Greencastle Mayor Sue Murray and DePauw University President Brian W. Casey to discuss details of the award, which was announced yesterday. The program will take place in the Great Hall of the Judson and Joyce Green Center for the Performing Arts, 605 South College Avenue. Refreshments will be served.
The Stellar Communities program is a multi-agency partnership designed to fund comprehensive community development projects in Indiana's smaller communities. Greencastle and North Vernon are the inaugural recipients of Stellar Communities grants and, as a result, will receive more than $30 million in state-administered grants over the next three years. The Indiana Housing and Community Development Authority, Indiana Office of Community and Rural Affairs, and Indiana Department of Transportation, along with the State Revolving Fund, are participating in this innovative program which makes possible multiple community development projects to improve and revitalize cities.
Greencastle's plan will -- among other things -- revitalize the downtown area; link the city more closely with DePauw; and improve the quality of life through new initiatives in health, the arts, and technology.
Learn more in this previous article.
Back