WGRE Will Carry Ubben Lecture by Lee Hamilton '52 Live
March 14, 2011
Also: Veteran Statesman Lee Hamilton '52 Returns to Alma Mater March 15 as Ubben Lecturer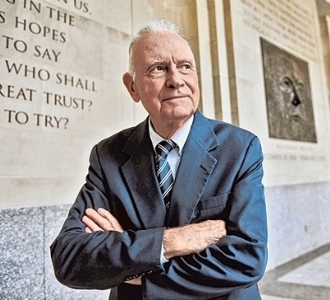 March 14, 2011, Greencastle, Ind. — Tomorrow night's Ubben Lecture by Lee Hamilton, the former congressman who co-chaired the 9/11 Commission and Iraq Study Group, can be heard live via DePauw University's student radio station WGRE. Hamilton will discuss "The U.S. Role in the World After Afghanistan and Iraq" at 7:30 p.m. Tuesday. For those unable to attend the free program in Meharry Hall of historic East College, the speech can be heard locally on 91.5 FM or anywhere in the world via this link.
Hamilton, a 1952 graduate of DePauw, served for 34 years in Congress representing Indiana's ninth district, from January 1965 before retiring in January 1999. He became president and director of the Woodrow Wilson International Center for Scholars in Washington, D.C., a post he held until late last year, and continues as director of the Center on Congress at Indiana University.
Learn more about Tuesday's program in this article.
Established in 1986 through the generous support of 1958 DePauw graduates Timothy H. and Sharon Williams Ubben, the Ubben Lecture Series was designed to "bring the world to Greencastle." To
view a complete roster of Ubben Lecturers -- which includes links to video clips and news stories -- click here.
The nation's first 10 watt, non-commercial, educational radio station, WGRE signed on the air on April 28, 1949. Originally based in Harrison Hall, the station's studios were in the Memorial Student Union Building for many years. Since 1991, WGRE has been located in the Pulliam Center for Contemporary Media. The station, managed and run by approximately 200 DePauw students, currently operates 24 hours a day at 800 watts.
Back