Tigers Drop 7-5 Decision to Wabash
March 16, 2011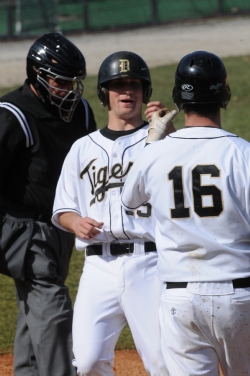 March 16, 2011, Greencastle, Ind. — Wabash rallied from a 5-2 deficit with three runs in the seventh and two in the ninth to defeat DePauw by a 7-5 score at Walker Field. The Tigers dropped to 7-8 with the loss, while the Little Giants improved to 3-10.
DePauw scored two in the first as Ben Gardner led off with a walk and moved to second on Sam Swafford's single.
Rob McPike followed with a single to left which scored Gardner. The Wabash left fielder, Trey Fankhauser, wasn't able to field the ball cleanly allowing Swafford to move to third. The Little Giants failed to stop the throw to third from the outfield which allowed McPike to move to second. Swafford then scored when an attempted pickoff throw to second went into centerfield.
Wabash cut the margin to 2-1 in the third as John Holm was hit by a pitch with the bases loaded allowing Joe Johnson to score. John Pennington then hit into a fielder's choice with Brian Lares forced out at the plate and the inning ended with another fielder's choice.
DePauw extended its lead to 3-1 in the third as McPike led off with a single and scored on Jason Cohen's triple to right center, but Cohen was stranded at third.
In the Wabash fourth P.J. Tyson reached by being hit by a pitch and moved to second on Casey Shipley's sacrifice bunt. David Seibel's double scored Tyson and closed the Tigers' lead to 3-2.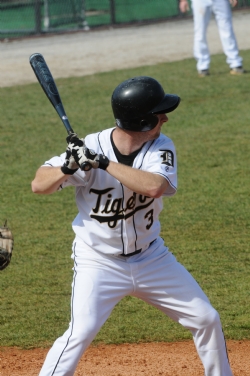 The Tigers added two more in the fourth as Chris Forbringer and Ben Gardner each singled before Swafford advanced them with a sacrifice bunt. McPike was intentionally walked before Cohen singled home Forbringer off of reliever Nate Adams. Zach Galyean was hit by a pitch with two outs and the bases loaded and that allowed Gardner to score and gave DePauw a 5-2 lead.
Wabash knotted the score in the seventh as Johnson led off with a single and moved to second on Lares' single. Pinch-hitter Montana Timmons reached on an error and Holm followed with a sacrifice fly which scored Johnson. Chris Deig loaded the bases after being hit by a pitch with two outs before Tyson drove in a pair with a double that popped out of the glove of a diving Cohen in left.
The Little Giants won the game in the top of the ninth as Timmons led off with a double. DePauw reliever Elliott Ross struck out the next two hitters, but Deig's single to right plated pinch-runner Robby Hechinger. Tyson reached on an error and Tanner Coggins followed with an RBI single to center.
DePauw totaled nine hits led by two each from McPike, Cohen and Forbringer. The Little Giants finished with 10 hits as Lares and Johnson each had two. In all, eight different Wabash players had at least one hit.
Ross dropped to 2-2 with the loss in relief of DePauw starter Andy Manson. Chris Widup improved to 1-3 with two innings of scoreless relief, while Andrew Swart collected his first save with a scoreless ninth. Wabash's four relievers didn't allow the Tigers a base hit in the final 5 1/3 innings.
DePauw opens Southern Collegiate Athletic Conference play on Saturday with a Noon CDT doubleheader at Rhodes College in Memphis.
Follow DePauw Athletics on Twitter | Become a Fan of DePauw Athletics on Facebook
Back