Cello Professor Cassel Grubb to Join School of Music Faculty
May 6, 1949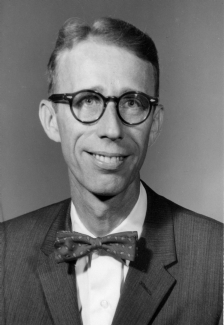 May 6, 1949, Greencastle, Ind. — Cassel Grubb will join the DePauw University School of Music faculty in the fall, President Clyde E. Wildman and Dean Edgar C. Cumings announced today. Grubb, assistant professor of cello and theory, will arrive at DePauw in September. At the present time he is teaching at Del Mar College in Corpus Christi, Texas.
A native of Palmyra, Pennsylvania, Grubb received the bachelor of music degree from the Eastman School of Music in 1946, where he studied on a George Eastman honorary scholarship. He will receive a master's degree in music from Eastman in August.
A veteran of World War II, Grubb was first cellist in the Camp Lee Symphony Orchestra and first cellist in the Army Air Force String Quartet.
For more information, visit the DePauw School of Music online.
Back