DePauw's 400 Free Relay Finishes 21st at NCAA Championships
March 26, 2011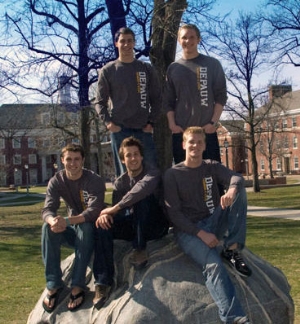 March 26, 2011, Knoxville, Tenn. — DePauw's 400-yard freestyle relay of John Montgomery, Joe Hessburg, Jack Burgeson and Josh Baugh finished 21st this morning at the NCAA Division III Swimming and Diving Championships.
The relay finished with a time of 3:07.58 after entering with the 23rd fastest time.
Earlier in the morning, sophomore Matt Kukurugya was disqualified for a kick violation in the 200-yard breaststroke.
On Friday, Kukurugya earned all-America honors with an eighth-place finish in the 100 breast in 56.66 seconds. In the prelims, Kukurugya broke his own school record after finishing seventh in 56.29 seconds.
Also on Friday, DePauw's 800 free relay of Montgomery, Hessburg, Burgeson and Baugh finished 20th in 6:54.26.
On Thursday, DePauw's 200 free relay of Burgeson, Hessburg, Baugh and Montgomery earned honorable mention all-America honors after finishing 14th in 1:24.09.
The Tigers' 400 medley relay of Baugh, Matt Kukurugya, Montgomery and Burgeson finished 21st in 3:29.78 on Thursday, while the 200 medley relay of Montgomery, Kukurugya, Baugh and Hessburg finished 17th in 1:34.01.
Follow DePauw Athletics on Twitter | Become a Fan of DePauw Athletics on Facebook
Back