Columnist Praises "Brilliant Coach" Brad Stevens '99 in Final Four Preview
March 28, 2011
March 28, 2011, Greencastle, Ind. — "Combine Brad Stevens (34 years old) and Shaka Smart (33 years old), and they still haven't lived as long as Jim Calhoun (68 years old), whose head-coaching career started in 1972 -- four years before Stevens was born and three years before Smart was born," writes CBS Sports.com's Gary Parrish in a look at this year's Final Four coaches. "When Calhoun won the 1999 NCAA tournament, Stevens was a point guard at DePauw and Smart was a point guard at Kenyon College. Stevens and Smart have been head coaches for six combined seasons. Meantime, [John] Calipari (52 years old) was the head coach at UMass for eight seasons and Memphis for nine seasons. In between, he spent four years in the NBA -- three as the head coach of the Nets and one as an assistant with the Sixers."
Parrish calls this year's NCAA men's basketball tournament "the most unlikely Final Four in history, and if Butler or VCU wins two more games, we'll also have the most unlikely national champion in history -- not to mention our first champion from outside of the conference power structure since UNLV won a title in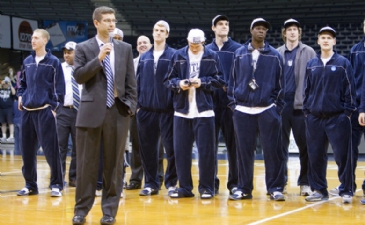 1990." (at right: Stevens and his players address Butler fans at 1:30 a.m. Sunday in Hinkle Fieldhouse, Indianapolis, hours after defeating Florida in New Orleans to advance to the Final Four for a second consecutive year; courtesy: Indianapolis Star/Robert Scheer)
He picks Butler to win the national championship, noting the Bulldogs have "a brilliant coach (Stevens) and a roster of players willing to commit on both ends of the court to doing whatever must be done to achieve success. That the Bulldogs don't rattle is another important quality. They've trailed in the second half of three of their four games in this NCAA tournament. Never once did it seem to matter."
Butler plays Virginia Commonwealth on Saturday; the winner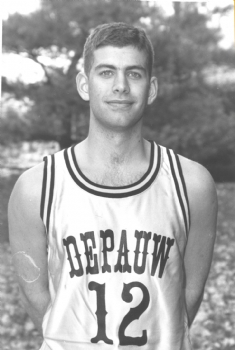 will advance to next Monday's national championship game.
Access Parrish's complete column here.
A 1999 graduate of DePauw University, Brad Stevens was an economics major and Management Fellow. In another article today, Sports Illustrated again notes the relationship between Stevens and his head coach at DePauw, Bill Fenlon, and the latter's paper, 'Up Three: To Foul Or Not To Foul.' In June, a half-hour program on FOX Sports Midwest focused on Stevens' success at Butler University and included comments from Fenlon. (at left: Stevens in his Tiger playing days)
On April 13, 2010, Stevens returned to his alma mater to deliver the Robert C. McDermond Lecture.
Also available is an online profile of Brad Stevens.
Back