Wednesday's Jimmy Wales-Nicholas Carr Debate Will Be Webcast; Also on WGRE
March 28, 2011
Also: Information on Wednesday's Event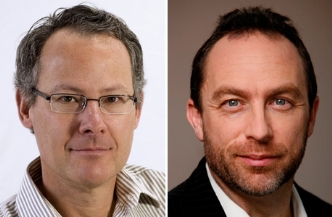 March 28, 2011, Greencastle, Ind. — Wednesday night's exchange at DePauw University between the founder of Wikipedia and the author of a book questioning what technology is doing to our lives is certain to be provocative, and it can be seen anywhere in the world via the Internet. The March 30 Ubben Lecture featuring Jimmy Wales and Nicholas Carr, author of The Shallows: What the Internet is Doing to Our Brains, will be webcast live at 7:30 p.m. The program will remain viewable as an archived video for two weeks. (photo, l-r: Nicholas Carr and Jimmy Wales)
Access the webcast via this link.
The debate will also be carried live on DePauw's student radio station WGRE (91.5 FM or via this link).
Presented by the Timothy and Sharon Ubben Lecture Series, the program -- "Wired... and Weary?" -- will begin at 7:30 p.m. in Kresge Auditorium, Green Center for the Performing Arts (605 S. College Avenue). As with all Ubben Lectures, the event is presented free of admission charge and the public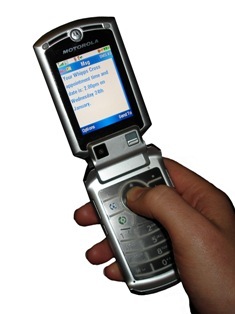 is invited.
The program will be part of a day-long, student-driven initiative in which undergraduates are encouraging one another to set aside devices for a day and consider how technology is affecting the way we think, communicate and live our lives. Seniors Christine Walker (student body president) and David Dietz (executive vice president of DePauw student government) came up with the idea of a "tech-free day." The program that will bring Carr and Wales together at the end of the day will be the first of its kind in the nation.
Wednesday's event will mark the second-ever Ubben Debate. The first, held September 11, 2009, brought Howard Dean and Karl Rove to the DePauw campus for a lively exchange which was witnessed by a capacity crowd.
Learn more in this announcement. The Carr-Wales event was also featured in the March 15 Indianapolis Star.
Back