Dustin Ward Named Offensive Coordinator at Concord University
March 29, 2011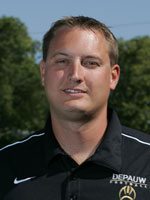 March 29, 2011, Greencastle, Ind. — Dustin Ward, who served as offensive coordinator for the DePauw University football program the past four seasons, has been appointed offensive coordinator at Concord University in West Virginia. "When the former Illinois quarterback saw the Mountain Lions' stats, he learned part of the story: 400 points and 5,480 total yards on offense last fall, and 365 points and 5,071 yards in 2009," notes a story in the Bluefield Daily Telegraph announcing Ward's appointment.
Of DePauw, Ward tells the newspaper, "It's a very high academic school, a private school. Having to teach them was almost tougher, because they were so smart ... They wanted to know the answer for everything, basically, and that made me a better coach ... Over time, that was great as a coach."
Ward served as the Tigers' running backs coach during the 2004 season under head coach Bill Lynch and helped DePauw to an 8-2 finish. During that season the Tigers averaged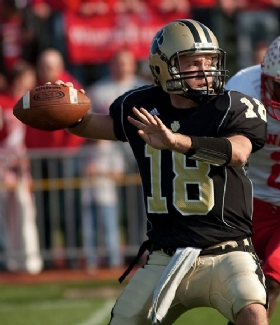 over 250 rushing yards per contest and rushed for 25 touchdowns. He then became offensive coordinator and quarterbacks coach at St. Joseph's College in Indiana, then served as a recruiting assistant at Indiana University before returning to DePauw for the 2007 campaign.
The 2003 University of Illinois graduate earned four letters at quarterback for the Fighting Illini where he completed 54 percent of his passes for 1,946 yards and 12 touchdowns in 22 career games. He also was a two-time winner of the Chancellor's Award.
Access the article at the Daily Telegraph's website.
For comprehensive coverage of the DePauw football program, which has reached the NCAA Division III playoffs the past two seasons, visit the team's official online page.
Back