Encouraging Note from Bill Fenlon to Brad Stevens '99 Cited in Newspaper Reports
March 29, 2011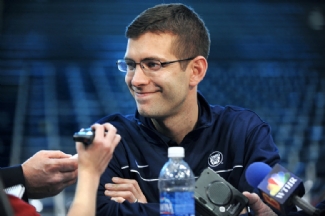 March 29, 2011, Greencastle, Ind. — As Brad Stevens prepares his Butler University basketball team for its second consecutive Final Four appearance this weekend, the 1999 DePauw University graduate ponders how much has changed since February 3, when his team lost its third straight game and fell to 14-9 on the season. At a session with reporters yesterday, "Stevens recalled the cartoon his coach at DePauw University, Bill Fenlon, sent to encourage him through the rough patch," notes today's Chicago Tribune. "It's an image of a dejected superhero sitting alone under a palm tree on a deserted island. The thought bubble read, 'Oh, yeah, I can fly.'" (top photo: Stevens holds court during a media session at Hinkle Fieldhouse Monday; Matt Detrich/Indianapolis Star)
Stevens, who has won more games in his first four years than any coach in Division I basketball history, states, "That was kind of the way we were. We had the ability but we were down. We weren't far from being good. It's easy to get caught up in the negatives, but they didn't. That is the most rewarding thing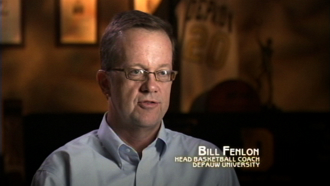 about this team."
This morning's Fort Wayne Journal Gazette also shares the anecdote of how Butler bounced back after the loss to Youngstown State. "The next day, Stevens received several encouraging calls, texts and other messages," writes LaMond Pope. "His favorite came from Bill Fenlon, his college coach at DePauw. Stevens said Fenlon sent an old cartoon from the New York Post, which featured a superhero sitting on an island. 'And then he pops his head up and says 'oh yeah, I can fly,' ' Stevens recalled Monday at Hinkle Fieldhouse. The Bulldogs have since taken flight. Butler (27-9) hasn't lost since, a run of 13 consecutive victories that has landed it in the Final Four for the second straight year."
Meanwhile, today's Denver Post notes, "Two of the nation's hot young coaches, Final Four returnee Brad Stevens (age 34) of Butler and Virginia Commonwealth's Shaka Smart (age 33), certainly can relate to each other's career path. Both have Division III roots. Stevens played at DePauw University in Indiana, and Smart for Kenyon College in Ohio. Under NCAA rules, Division III schools do not offer athletic scholarships." Butler plays VCU Saturday, with the winner advancing to the national championship game.
Brad Stevens was an economics major and Management Fellow at DePauw. In an article yesterday, Sports Illustrated again noted the relationship between Stevens and Fenlon and the latter's paper, 'Up Three: To Foul Or Not To Foul.' In June, a half-hour program on Fox Sports Midwest focused on Stevens' success at Butler University and included comments from Fenlon.
On April 13, 2010, Stevens returned to his alma mater to deliver the Robert C. McDermond Lecture (photo shows Stevens with Gary Lemon, director of DePauw's Management Fellows program and professor of economics).
Also available is an online profile of Brad Stevens.
Back