Prof. Priscilla Pope-Levison '80 to Address Symposium in British Columbia
March 29, 2011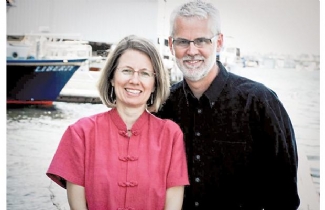 March 29, 2011, Greencastle, Ind. —Priscilla Pope-Levison, professor of theology and assistant director of women's studies at Seattle Pacific University and 1980 graduate of DePauw University, will be a featured speaker at a Thursday symposium presented by Trinity Western University's Gender Studies Institute. Dr. Pope-Levison and her husband, John R. "Jack" Levison, professor of New Testament at Seattle Pacific, will deliver the keynote address at the Engendered Lives symposium.
"What do the Bible and feminism have to do with each other? Quite a lot, says two biblical scholars coming to speak at Trinity Western University," notes an article in
the Advance of Langley, British Columbia, Canada. "Three waves of feminism, from the late 19th century to the present, have considered the Bible to be a critical text both for and against women's liberation. The Levisons, a theologian and a biblical scholar respectively, will briefly explore each wave's biblical interpretation" in their presentation, "The Bible and Feminism."
Priscilla Pope-Levison's books include Turn the Pulpit Loose: Two Centuries of American Women Evangelists and Jesus in Global Contexts, a collaboration with her husband.
Read more at the newspaper's website.
Back