Comedian Joe E. Brown Visits DePauw Campus
February 17, 1948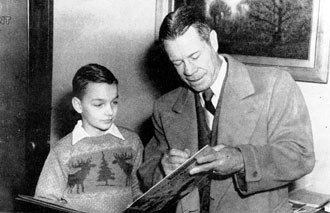 February 17, 1948, Greencastle, Ind. — Entertainer Joe E. Brown, currently starring in Mary Chase's Pulitzer Prize-winning play, Harvey, encouraged an audience at DePauw University today to "be not only good American citizens but good world citizens." The star of stage, screen and radio presented informal remarks to a crowd of nearly 3,000 in DePauw's Bowman Gymnasium. (at left: Brown autographs a scrapbook belonging to "Sonny" Brooks, son of DePauw Comptroller H.H. Brooks, who was instrumental in bringing the entertainer to campus)
"I would much rather make people laugh than cry," Brown told the crowd. "Laughter is the greatest tonic I know. I like clean humor but I have never believed that it was necessary to reach to the bottom of the barrel to find humor."
Brown did not have the advantages of much formal education, and he spoke of its importance. He left home at the age of nine to join an acrobatic troupe, the Five Marvelous Ashtons. Except for short excursions into the world of sports (he was pursued by baseball's New York Yankees), he has been a public entertainer since that time.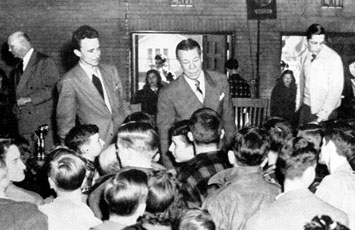 When Brown arrived in Greencastle, he was greeted by a telegram from Ford Frick, president of the National Baseball League and 1915 DePauw graduate, welcoming him to his alma mater. (at right: students gather around Brown after his talk; President Clyde Wildman and English Professor Frederick L. Bergmann are seen standing in the left side of the photo)
During World War II, Brown kept a busy schedule of shows performed for service men, entertaining an estimated four million men in uniform, often at his own expense. "No man, either in the United States or out here, has done more for our boys than Joe E. Brown," stated General Douglas MacArthur.
From his experiences during the war, "I've found that I've lost any feeling of hatred for people," Brown said today. "I may hate what they stand for, their actions, but I don't hate them."
Back