NY Times' Bosley Crowther Discusses 'What You Don't Know About the Movies'
February 6, 1948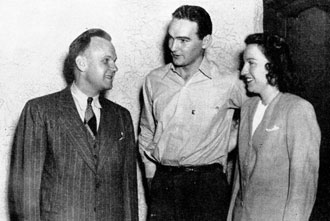 February 6, 1948, Greencastle, Ind. — "Our movie entertainment is a long way from what discerning people would like it to be," New York Times film critic Bosley Crowther told an audience at DePauw University today. The acclaimed writer spoke on the subject, "What You Don't Know About the Movies." (photo: students Will Parker and Ellen Jacobson on either side of Crowther)
Today's film fare is "meaningless musical comedies, pseudo-historical, tough guy and other such pictures," Crowther declared. "Nine out of ten of these are a mockery to the adult mind."
Placing a great deal of the blame on motion picture audiences, Crowther added, "We
can hope for improvement if you as moviegoers are more discriminating in what you go to see. If you want better movies, you must support better movies, not poor ones."
Back