ABC Affiliate Reports on Student-Led Call for a 'Device-Free Day' at DePauw
March 30, 2011
March 30, 2011, Greencastle, Ind. — "Today, DePauw University students were encouraged to log off the Internet and shut down their cellphones, all as part of an effort to raise awareness about the way technology functions in our lives," WRTV anchor Todd Connor announced during the ABC affiliate's 5:30 p.m. newscast this evening. Connor introduced a story by Joanna Massee, who visited Roy O. West Library earlier in the day to see how DePauw students were responding to the call for a "device-free day."
"I don't think the ultimate goal is to have people throwing their blackberries off bridges or anything or get rid of their laptops forever," senior David Dietz tells the station, pointing out that the idea behind the day is to make people take time to engage in activities that don't involve texting, calling or surfing.
Senior and student body president Christine Walker, who organized the day with Dietz, is also interviewed for the story. Also seen are DePauw students Yashaswee Malla, Jennifer Behrens and Margaret Musgrave, as well as Professor Bob Steele, a 1969 graduate of the University.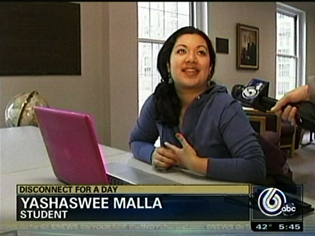 Access a text report, which also has video embedded in it, at TheIndyChannel.com.
A portion of the segment is also available here:

[Download Video: "Clip of WRTV Report" - 2613kb].
The Indianapolis Star previewed today's event in a March 15 column.
The capstone of the day will be a 7:30 p.m. debate between Wikipedia founder Jimmy Wales and Nicholas Carr, author of The Shallows: What the Internet is Doing to Our Brains. Learn more about the program, which is being presented by the Timothy and Sharon Ubben Lecture Series, by clicking here.
Source: WRTV (ABC)/Indianapolis
Back