Culture of Conversation
March 31, 2011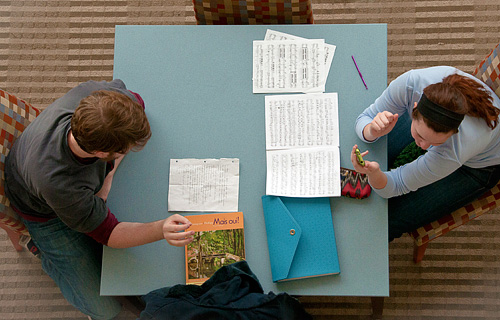 Academic advising week has begun, and students are meeting with faculty advisers to discuss coursework for fall semester. While these planned meetings are scheduled each semester, advising at DePauw is omnipresent and takes place year round.

"Advising is everywhere," says Pedar W. Foss, dean of academic life and associate professor of classical studies. "The key is making sure that students get accurate information that makes sense to them. Then it becomes information that they have a chance to act on."

Forward Thinking: Four Years at DePauw is an online guide designed to assist students in planning their DePauw experience. "It's a great resource that encourages students to consider thoughtfully all the options available.

"We have a nice tradition of conversation at DePauw, and faculty members have always been very good about talking to our students," Foss says. "We want to connect the different pockets of advising that go on around campus so that it's more coordinated and coherent without getting in the way of all the wonderful serendipitous encounters.

"We'd like for the culture of thoughtful conversation, advice and help to be prominent. We want people to know that's what we do here – that's a part of who we are," Foss says.


Dana A. Dudle, associate professor of biology, is chair of the advising committee. The committee members work closely with staff members in Civic, Global and Professional Opportunities to make clear links between academic advising and advice given about life outside the classroom.

"As President Brian W. Casey shared with us at a recent faculty meeting, students really look forward to and value meaningful one-on-one conversations with faculty members. Academic advising is just one of the times in which those conversations occur," Dudle says.

"The sessions are good opportunities for us to discern what students are passionate about and how coursework complements opportunities outside the classroom. We ask the students: What kind of people do you want to work with? What kind of environment do you want to surround yourself with? How can we get you there? Those kinds of conversations are a kind of teaching, and they're really invigorating," Dudle says.

Kelley J. Hall, associate dean of academic life and part-time associate professor of sociology, works to keep students and faculty advisers informed. She believes that when students and faculty members are better informed about advising opportunities, students are able to make better decisions about their lives.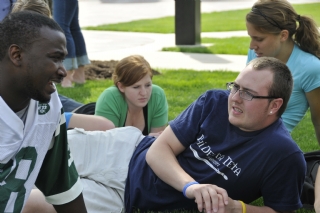 "Advising is much more about the student's whole DePauw experience and less focused on scheduling classes. Faculty advisers have tremendous connections and make really important relationships with students," Hall says.

"It's the adviser who signs the registration form and gives the access code so that students can register for their courses, but we all want to guide and mentor students. We are all invested in crafting a meaningful DePauw experience for them. It's not limited to faculty members. President Casey, our colleagues in Student Life, Vice President for Academic Affairs David Harvey – we all want that for our students."



Back