NPR Profiles Fox News "Star" Anchor Bret Baier '92
April 8, 2011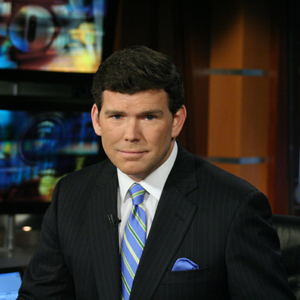 April 8, 2011, Greencastle, Ind. — Bret Baier, "an anchor pressing presidents and crisscrossing the globe to interview foreign leaders and military chiefs -- finds himself at the forefront of a new generation of stars at Fox News," notes an NPR profile of the 1992 DePauw University graduate. "His show is often the second-highest-rated in cable news, behind Fox's O'Reilly Factor, with roughly 2 million viewers a night ... Like fellow Fox anchor Shepard Smith, Baier is presented by executives as evidence of the network's fairness in its news coverage."
The report by David Folkenflik recalls Baier's now-famous March 2010 interview with President Obama, which some viewed as combative. But Baier says -- after a promised 30-minute session was cut in half -- he was just doing his job.
"We started and there was a White House aide over my camera in the distance holding an iPhone [that was] clicking back from 15 minutes," Baier recalls. "So I asked the first question, and the president kind of gave this stump answer that I had heard
earlier in the week about health care, that was taking a long time."
The piece also notes that Stephen F. Hayes of the Weekly Standard and author of Cheney: The Untold Story of America's Most Powerful and Controversial Vice President is a regular guest on Special Report with Bret Baier. Folkenflik notes, that Hayes '93 "was a junior fraternity brother of Baier's at DePauw University in Indiana. (Baier played varsity golf under the same DePauw coach [Ted Katula] as former Vice President Dan Quayle ['69], but they were separated by more than 20 years.)"
"To me the single best thing about the panel is the conversation -- and it's a real conversation," Hayes says of Baier's program.
The anchor adds, "We really do strive to balance out the panel every night. It's more an analysis -- I mean, you're not getting spinmeisters. You're not getting political types. These are actually journalists or columnists and they come from various, you know, organizations."
Jamie McIntyre, former Pentagon reporter for rival network CNN, states, "I remember thinking that if you took the average Bret Baier report at the end of the day and you took mine -- and you stripped the names out so you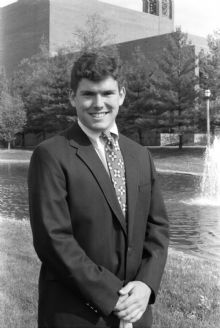 didn't know who was producing them -- I'm not sure you could tell which report was generated by CNN and which was generated by the Fox News Channel." McIntyre adds, "He's cracked the code. He's figured out what it is he needs to do with the employer he works for, and I think he's also trying to uphold his personal standards. And I think he does that pretty well." (at left: Baier in 1992 as a DePauw senior)
Access the full article -- "Bret Baier: The Next Generation of Fox News Anchor" -- and an accompanying audio file at NPR's website.
Bret Baier was an English (composition) and political science major at DePauw, where he was captain of the Tiger golf team. In 2008, Baier returned to his alma mater to discuss his career and to extol the advantages of a DePauw degree. A story with audio clips can be accessed here.
Back