Lee Hamilton '52 to Receive Honorary Degree from Manchester College
April 11, 2011
April 11, 2011, Greencastle, Ind. — Lee H. Hamilton, the 1952 DePauw University graduate who served 34 years in the U.S. House of Representatives and continues to be an important voice on matters of domestic and foreign policy, will speak at Manchester College this Thursday, April 14, and will be awarded an honorary Doctor of Laws degree from the institution, which is located in North Manchester, Indiana. The ceremony will precede Hamilton's 4 p.m. lecture in Cordier Auditorium on "The U.S. Role in the World after Afghanistan and Iraq."
Read more at Inside Indiana Business.com.
Hamilton addressed the same topic in a March 15 Ubben Lecture at his alma mater.
The Democrat has received more than a dozen honorary degrees, including one from DePauw in
1971. Manchester says it will honor Hamilton "in recognition of his principled service to government and his skills as a consensus builder."
First elected to Congress in 1964, Hamilton has worked with nine presidents and led some of America's most important inquiries and investigations. He served as vice chair of the 9/11 Commission and co-chair of the Iraq Study Group. As longtime president and director of the Woodrow Wilson International Center for Scholars and director of The Center on Congress at Indiana University, Hamilton promotes non-partisan dialogue on public policy. He advises the CIA, FBI, Homeland Security and President Obama. His books include A Creative Tension: The Foreign Policy Roles of the President and Congress, How Congress Works and Why You Should Care and Without Precedent: The Inside Story of the 9/11 Commission. His many honors include the Churchill Award for Statesmanship; the Eisenhower Medal for exceptional leadership; the National Conference on Citizenship Citizen of the Year Award; the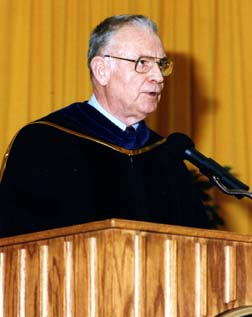 United States Capitol Historical Society Freedom Award; the Franklin and Eleanor Roosevelt Institute Freedom From Fear Award; and the Indiana Historical Society Living Legends Award.
As an undergraduate, Hamilton majored in history and was a star player on the Tiger basketball team. He was inducted into the Indiana Basketball Hall of Fame in 1982 and the DePauw Athletic Hall of Fame in 1987. Before his election to Congress, Hamilton practiced law in Chicago and Columbus, Indiana. (at left: Hamilton delivering the commencement address at DePauw; May 5, 1998)
Newsweek has called Lee Hamilton "Mr. Integrity," while USA Today recently noted that the veteran statesman "is one of the last of the Washington 'wise men,' figures who ruled Congress, led Cabinet agencies and shaped foreign policy during a less partisan era."
Learn more in this recent article.
Back