University Band and Chorus Combine for Spring Concert Sunday
April 12, 2011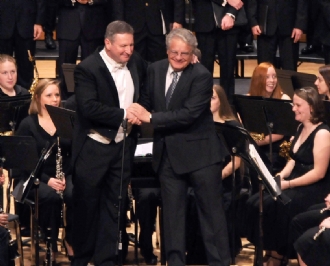 April 12, 2011, Greencastle, Ind. — You're invited to attend the spring concert of the DePauw University Band, this Sunday, April 17. Under the baton of conductor Craig Paré, the performance will begin at 3 p.m. in Kresge Auditorium, located within DePauw's Green Center for Performing Arts on DePauw's campus. It is presented free of admission charge and is open to the campus and community.

The concert will also feature the DePauw University Chorus, conducted by Jan Harrington. Programming consists of four works for symphonic band: Light Cavalry Overture by Franz von Suppé; Make A Joyful Noise by James A. Beckel Jr., adjunct professor of music at DePauw; Elsa's Procession to the Cathedral by Richard Wagner; and "March" from Symphonic Metamorphosis on Themes of Carl Maria von Weber by Paul Hindemith. Sunday's program will conclude with a combined performance of Howard Hanson's Song of Democracy by the University Band and University Chorus under the baton of Dr. Harrington. (top photo: Professors Paré and Harrington)

"This is the second opportunity we've had this year to collaborate with the University Chorus, and it has been a treat each time," notes Dr. Paré. "It is also an

honor to have Dr. Harrington leading this performance of Hanson's Song of Democracy."
The National Education Association and the Music Educators National Conference, in commemoration of NEA's one hundredth anniversary and the fiftieth anniversary of MENC, commissioned this beautiful work, composed in 1957. Song of Democracy is set to two Walt Whitman poems: An Old Man's Thought of School (1874), and Thy Mother with Thy Equal Brood (1872). Hanson turned to the American poet for texts in a number of his compositions, including Symphony No. 7 ("Sea Symphony"), Drum Taps, The Mystic Trumpeter, and Songs from Walt Whitman.

In preparation for this piece, Paré collaborated with Harry Brown, associate professor of English at DePauw. "Hanson's pairing is appropriate," writes Dr. Brown. "Both poems were read by Whitman to audiences of students and teachers, and both exhort young people to sustain the democratic ethos hallowed by the [American Civil] war and given its highest expression in Whitman's own art."
Professor Brown (pictured at left) also composed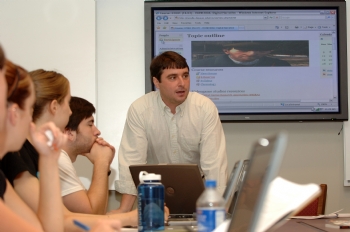 an abstract on Whitman that will be shared in the performance Sunday.

For those who are unable to attend Sunday's concert in person, DePauw's student radio station, WGRE, will rebroadcast the performance at 4:30 p.m. It can be heard at 91.5 FM or via this link.

It is requested that, if possible, those attending Sunday's concert bring one non-perishable food item for admission. All donations will go directly to the Putnam County Emergency Food Pantry. Needed items include pork & beans, dried beans and rice, chili, and canned fruits and vegetables.
Founded in 1884, the DePauw University School of Music is one of the nation's oldest private institutions for post-secondary music instruction and the longest-running in Indiana. Learn more here.
Back