"Eighth Wonder of the World," Barbara Kingsolver '77, Honored for Lifetime Environmental Achievement
April 9, 2011
April 9, 2011, Greencastle, Ind. — "It's kind of the height of good luck to have a job that's so much fun you would do it even if no one paid you," bestselling author Barbara Kingsolver said today at Duke University as she received the LEAF Award for Lifetime Environmental Achievement. "And I guess for most literary novelists and all poets that is in fact true," the 1977 DePauw University added, according to a report in the Herald-Sun of Durham, North Carolina.

"The Duke LEAF is presented to an artist who inspires others to 'forge a more sustainable future for all,'" writes the newspaper's Melody Guyton Butts. "Duke's Nicholas School of the Environment bestowed the award last year to musician Jackson Browne and in 2009 to actor Robert Redford."

William L. Chameides, dean of the Nicholas School, said Kingsolver -- who majored in zoology (biological sciences) at DePauw -- "just may be the eighth wonder of the world." He added, "Our LEAF award fits you perfectly, and we're grateful that you have agreed to pick up our leaf on your path."

Butts notes, "Part of her job as a 'scientific artist' is to make science relatable, she said. She's now working on a book about climate change, with an aim of showing why the topic is 'relevant for everybody -- and I mean everybody, even the people who are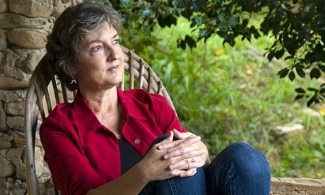 threatened' by the idea ... She said humans must understand the notion that 'there is no 'us' or 'them,' really. Really it's just us, that we're all in this together. The starfish, the wolves, the termites, the redwoods, us.'"
Access the complete story at the Herald-Sun's website.
Learn more about Barbara Kingsolver, a National Humanities Medal recipient whose works include The Poisonwood Bible; The Bean Trees; Animal, Vegetable, Miracle: A Year of Food Life; and The Lacuna, which received the UK's Orange Prize and the Library of Virginia's 13th Annual Library of Virginia Literary Award for fiction, in this recent story.
Copyright 2011 The Herald-Sun. All rights reserved.
Back