Professor Kevin Howley
April 13, 2011
Question: Which of the following newsmakers received far more media attention in 2011 than he deserved? A) Scott Walker, B) Muammar Gaddafi, or C) Charlie Sheen?
If you answered C, you'll get along with Associate Professor of Media Studies Kevin Howley. Howley is a vocal critic of U.S. corporate media – and the rise of celebrity journalism, lifestyle reporting and other forms of infotainment that divert the public's attention away from more important issues.
"When I want to get a laugh in class, all I need to do is remind students of 'Balloon Boy,'" he says, referring to the 2009 hoax that dominated national news. "This story was everywhere – the cable news channels, public radio, even The New York Times. Was it interesting? Maybe. Did it demand the kind of media coverage it received? Of course not."
If news audiences know a sideshow when they see one, then it's a good bet that journalists and editors know it, too. So, why do news organizations perform this way? For starters, Howley explains, it's cheaper.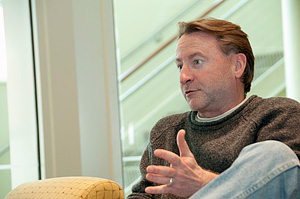 "After all," Howley observes, "media spectacles like the Balloon Boy 'story' are relatively inexpensive, easy to produce and lend themselves to the 24/7 news cycle. But watchdog journalism and investigative reporting – arguably the lifeblood of a democratic society – require a lot of time, effort and resources." This is especially true of journalism that challenges economic and political elites. And therein lies another reason why news organizations produce infotainment spectaculars instead of more substantive journalism: rocking the boat isn't likely to win you many friends in high places.
"If I'm the shareholder of a media conglomerate, official source stenography and soft news makes perfect business sense," Howley argues. "But from a public interest perspective, it's a recipe for disaster."
Much of Howley's research examines independent media that tries to insulate itself from market pressures and government interference of the sort that undermines high-caliber journalism. His work has appeared in Journal of Radio Studies, Journalism: Theory, Practice, and Criticism, Social Movement Studies and online journal Transformations. He is author of Community Media: People, Places, and Communication Technologies (Cambridge, 2005) and editor of Understanding Community Media (Sage, 2010).
But Howley hasn't limited himself to writing about alternative outlets. He is also a columnist for the Bloomington Alternative, an independent publication that covers stories that don't get much attention in the mainstream press.
Editorial decisions about which stories to report and how to report them are made in newsrooms every day. But what does it say about contemporary journalistic practice when significant news stories are underreported, if reported at all? Put another way, what becomes of a democratic society when "he-said, she-said" political reporting and nonstop coverage of eccentric celebrities obscure vital news stories?
For three years, students in Howley's Media, Culture & Society course have participated in Project Censored, a national media monitoring program that tracks stories that don't make the news. Founded in 1976 by Carl Jensen of Sonoma State University, Project Censored publishes an annual volume of the top 25 censored stories as selected by experts in their fields.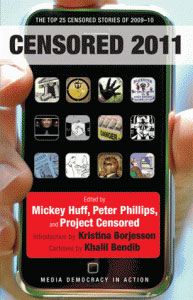 Last fall, 11 students and six faculty members from DePauw contributed to Censored 2011, the most recent Project Censored list. Howley served as an evaluator on stories about the coverage of threats to Internet privacy, the number of lives lost due to restricted medical access in the U.S., and the ways in which external business interests have harmed African nations.
"It's not just a matter of news organizations ignoring or censoring these stories," Howley says. "Oftentimes they're downplayed or framed in very particular ways. For instance, one of my favorite subjects to discuss in class is the way the press covers the net neutrality debate.
"Net neutrality – the principle of non-discriminatory access to online content and applications that internet service providers want to undermine – is typically framed as a business story about these large corporations duking it out," he explains. "And more often than not, the story is relegated to the business pages. Rarely does press coverage of net neutrality address the public interest implications of communication policy, let alone how thoroughly business interests, like AT&T, Comcast and other telecommunication firms, influence critical public policy decisions."
Howley's course requires students to enlist the help of DePauw professors in identifying and evaluating stories that meet the criteria for a censored story. Working in consultation with faculty experts, students must consider three questions: Is the story relevant to the American public? Should more people know about it? Has it been covered appropriately by U.S. news outlets? Whether or not a story passes this initial test, the assignment gives students a chance to see how news and current events are relevant to a variety of academic disciplines – from economics and political science, to biochemistry and computer science.
"Part of our mission as a liberal arts institution is to demonstrate to students that their academic pursuits have real-world implications," Howley says. "We really do take that charge seriously. We want to help students understand the importance of critically engaging with current events."
Who knows? Some of Howley's students may continue the journalistic tradition built by so many others who have graduated from DePauw, the birthplace of the Society of Professional Journalists. Regardless of their career goals and aspirations, Howley believes Project Censored helps students develop the analytical and critical thinking skills they will need to navigate an increasingly complex information environment. Indeed, in an era when citizen-journalists report from deep within oppressive regimes using Twitter, and decentralized organizations such as WikiLeaks can spread a library's worth of classified information at the press of a button, the art and craft of journalism are undergoing a radical transformation.
But as Howley points out, neither tweeter nor leaker operates without risk. Recently, politicians and pundits have called for WikiLeaks' founder Julian Assange to be tried for espionage for his role in the release of more than 250,000 diplomatic cables. These threats resonate even with journalists who have no connection to Assange or WikiLeaks.
"If one journalist sees another getting pushed around like this, they might think to themselves, 'Maybe I shouldn't ask those questions,'" Howley says. "It has a chilling effect. As a result, you stop asking tough questions and fall back on official source stenography – the sort of journalism that generates more heat than light. Either that, or you fill the news hole with endless chatter about the latest electronic gadget and celebrities gone wild."
Back