Percussion Ensemble Visits 'Serbia, Brazil, Japan' in Thursday Performance
April 10, 2011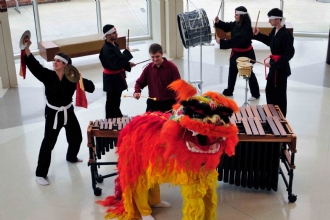 April 10, 2011, Greencastle, Ind. — The DePauw Percussion Ensemble will present a performance, "Serbia, Brazil, Japan: Concertos for Marimba and Percussion Ensemble," this Thursday, April 14, at 7:30 p.m. in the Green Center for the Performing Arts' Thompson Recital Hall. DePauw School of Music students Josiah Rushing, Rebekah Woolverton and Patrick Speranza will perform three virtuoso marimba concertos accompanied by percussion ensemble. Amy Lynn Barber, professor of music at DePauw, directs the group.
This event is free and the public is encouraged to attend.

Each concerto is a unique expression of the nationality of its composer; the use of accompanying instruments, melodic and harmonic material, and especially rhythmic styles from each country (Serbia, Brazil, Japan), reflect the culture in the music.

Opening the program is Uneven Souls by Nebojša Jovan Živković, a composer from Serbia. This musical work reflects the constantly changing and uneven meters of Balkan music, and also includes men's voices chanting in the style of Serbian Orthodox chant. Accompanied by members of the DePauw Percussion Ensemble, featured soloist Patrick Speranza will perform on marimba, and Nicholas Hinz, Yi Li, Adam Luhman, Orlando Ramirez and Andrew Repp will provide vocals.


Brazilian Ney Rosauro wrote the second work, entitled Concerto for Marimba and Percussion. Performed by marimba soloist Rebekah Woolverton and accompanied by members of the DePauw Percussion Ensemble, the Rosauro piece is quite lyrical and includes many elements of Brazilian folk music and dance styles.

Closing the concert is Marimba Spiritual by Minoru Miki, and features marimba soloist Josiah Rushing. The Miki piece is based on traditional taiko-style festival drumming from Japan. This piece was composed in memory of the victims of the famines in Africa in the 1960s. It begins with a slow, sad requiem-style section, which is followed by a lively, resurrection in the yatai-bayashi style.

For more information about this DePauw University School of Music event and others, click here.
Back