Former Tiger Assistant Micah Shrewsberry Joins Purdue Basketball Staff
April 19, 2011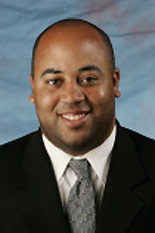 April 19, 2011, Greencastle, Ind. — Micah Shrewsberry, former assistant basketball coach at DePauw University, was today appointed assistant basketball coach at Purdue University. Shrewsberry, a Tiger assistant to Bill Fenlon from 2001-03, "comes to Purdue after a four-year run at Butler where he was able to coach in the last two NCAA championship games," notes WLFI-TV. "The Indianapolis native arrived at Butler in 2007 as coordinator of basketball operations, and was promoted to assistant coach in July of 2008."
Butler's head coach, Brad Stevens, is a 1999 graduate of DePauw.
"Micah Shrewsberry is hard-working, energetic and passionate, three qualities that we hold at the core of our program," Purdue head coach Matt Painter says. "He knows the landscape of college basketball in the Midwest,
and particularly in the state of Indiana. We're excited for him to get started at Purdue."
Shrewsberry's coaching career has also included stints at the University of Indianapolis, Wabash College, Marshall University, and serving as head coach at Indiana University-South Bend from 2005-07.
Learn more at the station's website, or from an Associated Press summary at the Denver Post.
Back