Senior Tennis Standout from Hawaii Builds Confidence and Finds Success at DePauw
April 20, 2011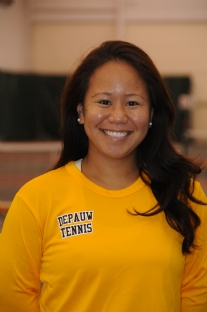 April 20, 2011, Greencastle, Ind. — "DePauw University in Indiana was everything Janelle Arita wanted in a college," begins a story in today's Honolulu Star-Advertiser. "It was a chance to experience something completely different in a part of the country where she knew absolutely nobody. And it allowed her an opportunity to continue her tennis career."
Billy Hull writes that the decision to attend DePauw "has changed Arita in ways she never thought imaginable. Now, the 2007 Punahou graduate considers herself an adventurous type of person, evidenced by her decision to teach English in Japan for a year after she graduates next month."
"It's all because of DePauw's influence on me and stepping out of my comfort zone to go to school here," Arita tells the newspaper. "It's given me the confidence that I could adapt to a new environment and try new things." (photo at right by Alex Turco '10)
Hull adds, "Confidence has never been an issue with her tennis game, which has been instrumental in the Tigers winning the Southern Collegiate Athletic Conference championship every year she's been there.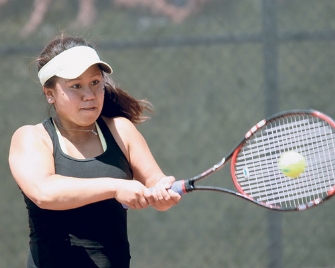 Arita stepped right in at the No. 1 singles position and started winning immediately, posting a 26-9 record her freshman year. She is 19-9 as a senior, but has won seven in a row as the Tigers prepare to defend their conference title on Friday." Arita is an All-American in tennis.
Read the full article -- headlined "Arita thrives in unfamiliar setting" -- at the newspaper's website.
Learn more about Janelle Arita in this previous story, or at the official online page of DePauw's women's tennis team.
Back