Article on Franchising Features Courtney Galyan '04
April 24, 2011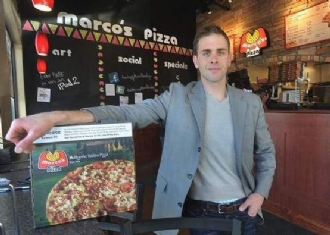 April 24, 2011, Greencastle, Ind. — Courtney Galyan, a member of DePauw University's Class of 2004, "spent his 20s in the buttoned-up world of commercial real estate working on the East Coast on big-name accounts such as CVS," notes today's Indianapolis Star. "Then the entrepreneurial spirit he seemed born with hit him." (photo by Joe Vitti/Indianapolis Star)
Galyan, who has opened one Marco's Pizza franchise in Indianapolis and is preparing to launch a second location, is one of four individuals featured in a story by Dana Hunsinger Benbow, headlined "Franchising hot as owners look to become their own bosses." It notes that Galyan "plans to open 10 stores in the Indianapolis area over a five-year period."
With franchising, says the 29-year-old Galyan, "You have a set of systems you can implement into your own business. It's kind of a security blanket because you don't go through all the
pitfalls of doing your own startup."
Read more at IndyStar.com.
Back