#20 DePauw Captures Third SCAC Softball Title in Four Years
April 24, 2011
BOX SCORE | OFFICIAL TOURNAMENT SITE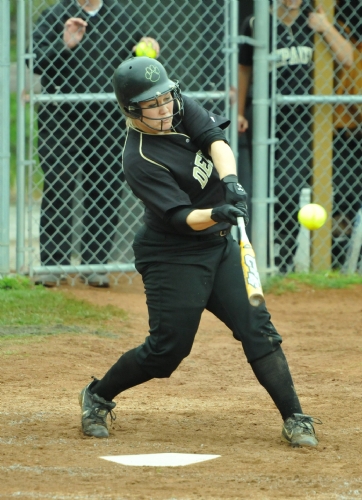 April 24, 2011, Greencastle, Ind. — Haley Buchanan's first hit of the 2011 Southern Collegiate Athletic Conference Softball Championship couldn't have come at a more opportune time as her three-run homer lifted DePauw to a 3-2 win over Trinity in the SCAC title game.
With the win, DePauw improved to 26-7-1 and earned its third SCAC title in the last four years and the program's fifth straight trip to the NCAA Championship. Trinity finished its season at 21-24.
With DePauw trailing 2-0 in the third, Brianne Weeks and Jen Kosinski singled before Emma Minx reached on a fielder's choice which forced Weeks at third. Buchanan then hammered a 1-0 pitch over the fence in left center to give the Tigers the lead for good. The homer was her 10th of the season which tied the school's single-season record.
Trinity took a 2-0 lead in the second as Lindsay Weyand and Becca Rush singled and Ana Garcia walked to load the bases. Karen MacPherson then delivered a two-out, two-run single down the right field line.
DePauw totaled seven hits led by Weeks' three, while Trinity totaled seven hits paced by MacPherson's two.
Emily Bichler retired the final 10 batters she faced and improved to 24-7. Trinity's Colbie Devost dropped to 13-13 with the loss.
DePauw's Minx, Weeks, Jen Kosinski and Bichler earned all-tournament honors as did Megan Russell, MacPherson, Devost from Trinity. Joining them were Tessa Galloway, Taylor Turpin and Kayla Irvin of Southwestern as well as Regina Sena and Katie Martello of Centre. The complete team, by position, is listed here.
Follow DePauw Athletics on Twitter | Become a Fan of DePauw Athletics on Facebook


Back