#2 Women's Golfers Win Seventh SCAC Title in Last 10 Years; Gooch is Player of the Year
April 24, 2011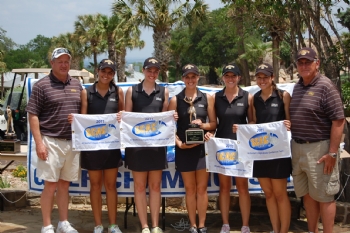 April 24, 2011, Horseshoe Bay, Texas — The second-ranked women's golf team shot a third-round 325 and won the Southern Collegiate Athletic Conference Women's Golf Championships with a three-round 964. Centre was second at 989 and Rhodes third with a 1024. The championship was the program's second straight and seventh in the last 10 years.
Paige Gooch was named the SCAC Player of the Year and the Freshman of the Year after earning medalist honors by shooting a 235. Kelly Gaughan joined her on the all-SCAC first team after finishing fourth with a 243.
Taylor Beaty and Camila Romero earned second team honors after finishing sixth and 10th, respectively. Beaty finished with a 247 and Romero shot a 251. Natalie Gough rounded out DePauw's lineup with a 252.
The Tigers have now qualified for their 10th straight NCAA Division III Championship appearance.
SCAC Championships
Horseshoe Bay G.C.
Horseshoe Bay, Texas
Dates: 4/22-24/2011
Par 72, 5906 yards  (9 teams, 40 players)

DePauw University............. 311 328 325   964  +100      1st
Paige Gooch...................  77  77  81   235   +19      1st
Kelly Gaughan.................  72  87  84   243   +27      4th
Taylor Beaty..................  84  81  82   247   +31      6th
Camila Romero.................  79  83  89   251   +35     10th
Natalie Gough.................  83  91  78   252   +36     11th

Centre College................ 325 336 328   989  +125      2nd
Emily Bachert.................  77  80  82   239   +23      3rd
Allison Hancock...............  78  81  86   245   +29      5th
Whitney Miller................  83  88  77   248   +32      7th
Paige Burton..................  88  87  85   260   +44   t-14th
Lauren Mashburn...............  87  99  84   270   +54     20th

Rhodes College................ 348 339 337  1024  +160      3rd
Stephanie Mingos..............  81  78  79   238   +22      2nd
Allie Bankart.................  90  81  86   257   +41     12th
Mary Reed.....................  89  85  84   258   +42     13th
Chloe Bootstaylor.............  89  95  88   272   +56   t-21st
Nicole Jones..................  89  96 101   286   +70     24th

Southwestern University....... 360 345 363  1068  +204      4th
Karissa Speck.................  84  85  80   249   +33      8th
Kelsey Coburn.................  91  79  90   260   +44   t-14th
Stephanie Scholer.............  93  87  92   272   +56   t-21st
Shae Seagraves................  92  94 101   287   +71     25th

Trinity University............ 357 361 351  1069  +205      5th
Molly Zumbro..................  90  85  92   267   +51     16th
Julia Orrange.................  84  95  89   268   +52   t-17th
Madison Wallender.............  88  96  85   269   +53     19th
Molly McCarthy................ 103  85  85   273   +57     23rd
Emma Herzog...................  95  97  97   289   +73     26th

Oglethorpe University......... 379 373 361  1113  +249      6th
Laura Landry..................  81  87  82   250   +34      9th
Chelsea Gatterdam.............  94  90  84   268   +52   t-17th
Lauren Williams...............  99 100  97   296   +80     27th
Tori Van Wyen................. 108  96 106   310   +94     30th
Edda Bjarnadottir............. 105 112  98   315   +99     31st

Hendrix College............... 415 403 431  1249  +385      7th
Brie Seebinger................ 100  99 100   299   +83     28th
Ashley Vick...................  96  98 107   301   +85     29th
Lizzy Cosenza................. 106 102 109   317  +101     32nd
Emily Mitchell................ 113 104 115   332  +116     33rd
Liz Pursley................... 134 128 138   400  +184     37th

Sewanee....................... 598 510 513  1621  +757      8th
Ellen Ruppert................. 132 110 116   358  +142     34th
Lauren Gould.................. 130 120 125   375  +159     36th
Sarah Laycock................. 164 132 134   430  +214     38th
Emily Raines.................. 172 148 138   458  +242     39th
Cathy Lambert.................  wd  wd  wd 

Millsaps College.............. dnc dnc dnc 
Molly Beth Jourdan#........... 131 117 123   371  +155     35th

# Indicates individual player

Follow DePauw Athletics on Twitter | Become a Fan of DePauw Athletics on Facebook
Back