Dave Morris '83 Joins Grubb & Ellis as Sr. VP
April 27, 2011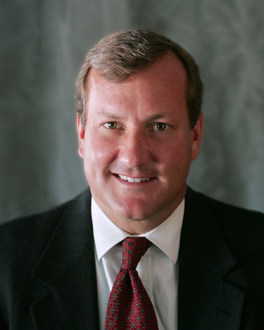 April 27, 2011, Greencastle, Ind. — David A. Morris, a 1983 graduate of DePauw University, has joined Grubb & Ellis Company (NYSE: GBE) as senior vice president and is leading the real estate services and investment firm's new St. Louis office. Morris will be responsible for serving real estate clients in the St. Louis area, as well as leading Grubb & Ellis' business development and recruiting efforts in the market.
"David has a tremendous reputation in the St. Louis market and was our top choice to lead the office in what we consider to be a very important market," says Shawn Mobley, president, brokerage services. "I am confident that his knowledge of Grubb & Ellis, combined with his industry expertise, will help us quickly establish a strong presence in St. Louis and enhance the service we provide to multi-market clients that operate in the region."

Morris comes to his new post from Gundaker Commercial, where he was a senior vice president and leader of the firm's brokerage division. He began his real estate career in Grubb & Ellis' Denver office in 1987 and also spent 15 years as a brokerage professional with Colliers Turley Martin Tucker.

"I've worked with Grubb & Ellis professionals throughout the country,
and I'm pleased to become a part of the team by opening a company-owned office in St. Louis," Morris says. "I look forward to establishing Grubb & Ellis as a dominant player in the region's commercial real estate market, as well as leveraging the company's deep resources and full platform to better serve my clients."

Morris is a member and a past president of CCIM's St. Louis chapter and president of the St. Louis Association of Realtors' Commercial Division. He is also a member of the executive committee and board of directors of SIOR's St. Louis chapter, of which he is president-elect for 2012.
Back