DePauw Wins SCAC President's Trophy for Sixth Straight Year; Seventh Overall
April 28, 2011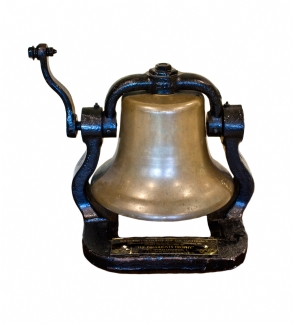 April 28, 2011, Greencastle, Ind. — With spring championships in women's golf, women's tennis and softball, DePauw won the Southern Collegiate Athletic Conference President's Trophy for the sixth straight year and seventh time in their 13 years in the conference. COMPLETE RELEASE
DePauw finished with 797.5 points, followed by Trinity University with 692.5 points, Centre College with 655 points and Rhodes College with 590 points. It marked the third consecutive year those four have finished in that order atop the standings.
Southwestern finished fifth with 415 points followed by Colorado College (370), Sewanee (320), Hendrix (305), Oglethorpe (297.5), Millsaps (257.5) and Austin (175).
In addition to this spring's three titles, DePauw teams finished second in men's tennis and women's track and field and fourth in baseball, men's track and men's golf.
Earlier this year, Tigers won SCAC championships in football, women's basketball and men's swimming and diving. During the course of the year, no DePauw team finished lower than fourth in its respective conference standing.
DePauw is just the second school in the history of the conference (CAC or SCAC) to put together a President's Trophy win streak of six or more years as Trinity University won seven straight from 1993-1994 to 1999-2000.
The Tigers are moving to the North Coast Athletic Conference effective July 1.
ABOUT THE PRESIDENT'S TROPHY: The symbol of conference supremacy is the 300-pound railroad bell which was donated to the SCAC by the Norfolk and Western Railroad. This bell, the "President's Trophy", is a rotating award and goes to the school with the best overall sports record for the year.
The bell has been a part of the conference since its inception in 1962. In fact, the first conference logo, when the league was known as the College Athletic Conference, has the image of the bell incorporated into it.

The President's Trophy is displayed for one year on the campus of the school with the combined men's and women's athletics program that accumulates the highest points total in the all-sports race.

The system used for distributing President's Trophy points was tweaked beginning with the 2010-11 academic year. Points will now be awarded from the bottom up, instead of the top down as had been the case. A last place finish in any particular sport is worth 5 points with points being awarded in five point increments for each place, up to first place.

Birmingham-Southern is a provisional member of the SCAC and will not be eligible for conference championships, and therefore all-sports trophy points, until the 2011-2012 season.
Follow DePauw Athletics on Twitter | Become a Fan of DePauw Athletics on Facebook
Back