All Systems "Go" for 2011 Putnam County Relay For Life
April 27, 2011
Also: 2011 Putnam County Relay For Life Information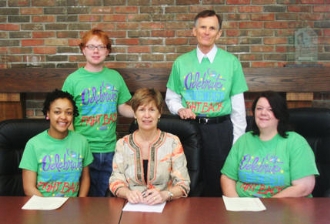 April 27, 2011, Greencastle, Ind. — "Mayor Sue Murray signs a proclamation declaring April 25 to May 1 as Relay For Life Week," notes a caption to a photo published in today's edition of Greencastle's Banner-Graphic. Pictured with the mayor are Relay organizers (wearing green t-shirts, left to right) DePauw University students Roddrea Smith and Tyler Archer, Mayor Murray, Dick Shuck (director of business services at DePauw) and Rachel Romas.
Relay For Life -- which brings together the Putnam County and DePauw University communties for an event on the DePauw campus benefitting the American Cancer Society -- is set for April 30 - May 1 at Blackstock Stadium. The proceedings begin at noon Saturday.
Access the photo at the newspaper's website and visit the official online page for Putnam County Relay For Life to learn more or register.
The DePauw-hosted Relay has won several awards for being among the best of its kind among American colleges and universities. The fundraiser was first held in 1996 and raised nearly $15,000. The total grew to approximately $20,000 by 1998, $30,000 by 1999, and $42,000 in 2000. Then, 2001 brought in $80,000; followed by $127,000 in
2002; more than $162,000 in 2003; 2004's $208,735; and a 2005 total of more than $230,000. The 2006 and 2007 Relays each raised approximately $220,000 for the cancer fight. The recession kept donations to about $160,000 in both 2008 and 2009 and more than $152,000 last year.
Learn more in this previous story.
A video shot and edited by Ken Owen '82, executive director of media relations for DePauw, provides a glimpse at the opening of the 2010 event, which was moved indoors to DePauw's tennis and track center because of inclement weather:

[Download Video: "2010 Relay For Life Video" - 6003kb] or via YouTube.
Back