Killing of bin Laden a "Very Large Psychological Blow to al-Qaeda," Says Lee Hamilton '52
May 2, 2011
May 2, 2011, Greencastle, Ind. — "This is a very large psychological blow to al-Qaeda because he was their leader, their symbolic leader, and they looked to him for inspiration with his periodic pronouncements," says Lee Hamilton in the wake of news Osama bin Laden has been killed by U.S. forces. Hamilton, a 1952 DePauw University graduate who served 34 years in the U.S. House of Representatives and is a noted expert on American foreign policy, was interviewed today by Indianapolis radio station WIBC hours after the White House announced that bin Laden is dead.
Eric Berman reports that Hamilton "cautions the threat of terrorism is not over -- he warns al-Qaeda has become a more diffuse organization, with bin Laden more important symbolically than operationally."
The report adds, "Hamilton credits U.S. forces with a shrewd move in burying bin Laden at sea -- so his remains don't become a shrine for his followers. The former congressman says American intelligence has improved in the 10 years since 9/11. But he says the intel which led to bin Laden reflects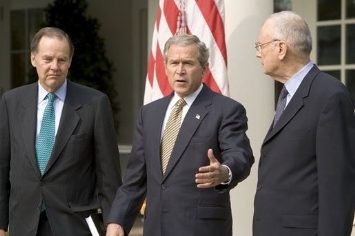 American tenacity in pursuing leads for years until they finally and literally led to bin Laden's doorstep." (at right: 9/11 Commission co-chairs Thomas Kean and Lee Hamilton deliver their panel's report to President Bush; July 22, 2004)
Access audio at the station's website.
First elected to Congress in 1964, Lee H. Hamilton has worked with nine presidents and led some of America's most important inquiries and investigations. During his tenure in the U.S. House of Representatives, Hamilton was chairman and ranking member of the House Committee on Foreign Affairs. He also chaired the Permanent Select Committee on Intelligence and the Select Committee to Investigate Covert Arms Transactions with Iran. The Democrat later served as vice chair of the 9/11 Commission and co-chair of the Iraq Study Group.
Now the director of the Center on Congress at Indiana University, Hamilton promotes non-partisan dialogue on public policy. He advises the
CIA, FBI, Homeland Security and President Obama. His many honors include the Churchill Award for Statesmanship; the Eisenhower Medal for exceptional leadership; the National Conference on Citizenship Citizen of the Year Award; the United States Capitol Historical Society Freedom Award; the Franklin and Eleanor Roosevelt Institute Freedom From Fear Award; and the Indiana Historical Society Living Legends Award. (at left: Hamilton talks with DePauw students in the hallway of historic East College)
As an undergraduate, Hamilton majored in history and was a star player on the Tiger basketball team. He was inducted into the Indiana Basketball Hall of Fame in 1982 and the DePauw Athletic Hall of Fame in 1987.
On March 15 the veteran statesman returned to DePauw to address "The U.S. Role in the World After Afghanistan and Iraq" in a Timothy and Sharon Ubben Lecture. A summary including video clips can be accessed here.
Back