Prof. Yung-chen Chiang Authors Educating Hu Shi
March 2, 2011
March 2, 2011, Greencastle, Ind. — Yung-chen Chiang, professor of history at DePauw University, is the author of a book, Educating Hu Shi, 1891-1917. A traditional-character edition of the new book has been published by Linking Press, the premier academic publisher in Taiwan. A simplified-character edition of the book will be published in China by New Star Press in April to coincide with the celebration of the 120th anniversary of the birth of Chinese philosopher Hu Shi.
"As a celebrity and intellectual superstar in modern Chinese history, Hu Shi has long been closely scrutinized and yet fundamentally misunderstood," notes a synopsis of the title. "Educating Hu Shi, the first of a projected five-volume new biography, entitled You Shall Know the Difference Now That We Are Back Again -- Hu Shi, tells his life from his birth in 1891 to 1917 when he finished his education in the United States and returned to China. This new biography will be a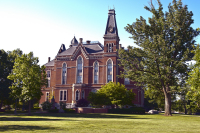 treasure trove for all Hu Shi scholars, for it utilizes almost all of his diary, life-writing, and correspondence."
Professor Yung-chen Chiang previously authored Xingxing, Yueliang, Taiyang: Hu Shi de Qinggan Shijie. Learn more in this previous article.
Back