John Herrick '10 Joins Montana's New Media Broadcasters
May 3, 2011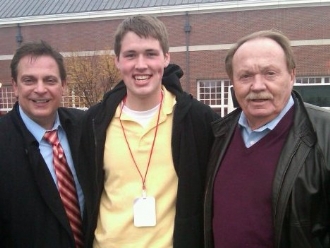 May 3, 2011, Greencastle, Ind. — John Herrick, a 2010 graduate of DePauw University, has joined New Media Broadcasters, a group of four radio stations in Havre, Montana. Herrick's broadcast work for the outlets includes play-by-play of sporting events. (photo: Herrick, who worked on HDNet's telecast of the 2010 Monon Bell Classic, with announcers Kenny Rice and Paul Maguire)
"I'm definitely excited to just do everything, to just learn everything about all the facets that go into a radio station," says Herrick, who was a communication major at DePauw, where he was a prominent voice on student station WGRE. "That's the great thing about working at a small station like this, you become versatile and multi-faceted. You do everything from news and sports to running a board."

Last month, Herrick's work at WGRE earned him an Indiana Associated Press Broadcasters Award.
Learn more about John Herrick in this previous story.
Back