Attorney & Civil Rights Leader Vernon Jordan '57 Receives Old Gold Goblet
March 23, 1969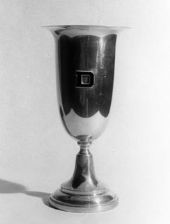 March 23, 1969, Greencastle, Ind. — Vernon Jordan -- attorney, civil rights leader and 1957 graduate of DePauw University -- was honored today as his alma mater's alumnus of the year. The 34-year-old Jordan received DePauw's Old Gold Goblet at the senior-alumni dinner and became the youngest recipient of the award, which is given annually to recognize "eminence in life's work and service to alma mater."
Jordan is director of the Atlanta-based Voter Education Project-Southern Regional Council and is on leave from Harvard University, where he is a Fellow of the Institute of Politics in the John F. Kennedy School of Government.
President Lyndon B. Johnson named Jordan to the White House Conference on Civil Rights in February 1966 and later that year placed him on the Selective Service's National Advisory Commission. (photo, l-r: student body president James Nenhuis, Vernon Jordan, DePauw President William E. Kerstetter and Robert J. Lavidge, president of the alumni association)
In 1967 the American Jewish Committee selected Jordan as one of twelve outstanding Americans to make a 12-day study trip to Israel.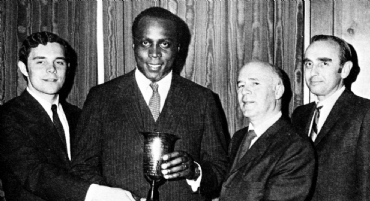 Formerly attorney-consultant to the U.S. Office of Economic Opportunity in Atlanta and the former Georgia field director for the NAACP, Jordan has also served as executive director of the Southern Regional Council.
Jordan holds a law degree from Howard University and is a director of the United Nations Association, the National Committee Against Discrimination in Housing, the Potomac Institute, and the Center for Community Change in Washington, D.C.
Back