Norman Knights '44 Named Executive VP of DePauw
February 17, 1969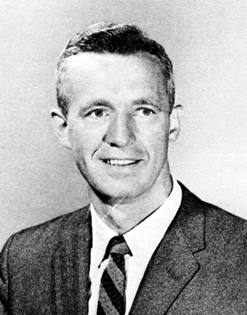 February 17, 1969, Greencastle, Ind. — Norman J. Knights, a 1944 graduate of DePauw University who has been serving his alma mater as assistant to the president for planning and development, has been named to the newly-created position of executive vice president of the University.
According to President William E. Kerstetter, who announced the appointment, Knights is being tapped "because of the ever-increasing scope of responsibilities carried by the University president and the urgent necessity for his being intermittently on and off campus in discharging these responsibilities."

Dr. Kerstetter added, "In his new post, operating under the authority of the president of the University, Mr. Knights will have jurisdiction for interpretation of policy an for administrative action over the many aspects of the University, with the exception of academic affairs. When the president must be off campus, the executive vice president will represent and act for the president on campus."
Kerstetter says he is confident the new structure will strengthen the operations of the University.
Back