Britain's Harold Macmillan Makes Return Visit to DePauw, Calls for New Rapprochement
January 23, 1968
January 23, 1968, Greencastle, Ind. — "Britain and America must remain linked, not merely by the memory of all that we shared in the past, but by the needs of the present," former British Prime Minister Harold Macmillan told a crowd of about 2,500 who crammed into DePauw University's Bowman Gymnasium tonight. The 73-year-old statesman, who first visited DePauw in June 1958 when he delivered a commencement address which was nationally televised, led Great Britain from 1957 to 1963. He called tonight's speech his second major address since leaving office. (photo: Macmillan notes the inclusion of his name in the book, DePauw Through the Years, presented to him during tonight's event)
"Before 1914, the dominating theme of the world was evolution; since 1945 it has become revolution," Macmillan told the audience.
He believes the key to finding a peaceful solution in Vietnam may be in revisiting a concept at the end of World War II -- when the U.S. and its European allies teamed with the Soviet Union. "Now is the time to make a new attempt to return to the plan which the Russians and their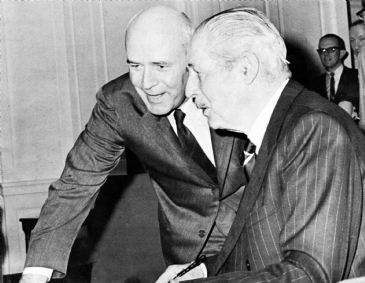 British and American allies devised at the end of the war -- to bring unity to the Security Council by a rapprochement between the two great groups led by Russia and America," Macmillan declared. "Thereby we may return to the proper functioning of the Assembly, allow the United Nations to operate as it was intended to do and, by removal of this great cloud of fear that overhangs the world, develop cooperation for peace and prosperity. " (at right: DePauw President William E. Kersetter chats with Mr. Macmillan)
He continued," It may well be true that this new grouping will be the result partly of changing sentiments and partly of changing conditions. Its purpose will be to contain China, and the first fruit of such a new approach might well be a settlement of the problem of Vietnam. There, you have nobly borne the heat and burden of the day -- your aims have been misrepresented and even misunderstood. But your purpose has been containment, not conquest. If this can be achieved by recruiting Russia and her allies to the side of peace, you will secured another breathing space for the world."
According to Macmillan, "It is China, not America or Europe,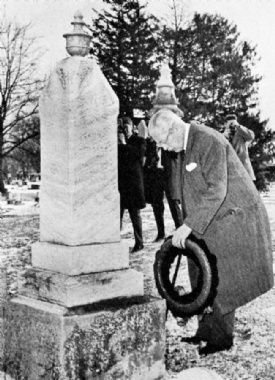 that Russia fears. "
At the talk's conclusion, Macmillan admitted, "I am conscious that in putting forward these thoughts I have already raised criticism and even reproach. I have done so because, at the end of a long life, I feel it my duty to make what contribution I can to the cause of peace and progress."
The former prime minister arrived last night with his 24-year-old grandson, Alexander, at Weir Cook Airport in Indianapolis, and both were greeted by DePauw President William Kerstetter. Macmillan stayed at the president's home and retired early, while his grandson received a tour of the DePauw campus from the editor of the student newspaper, The DePauw.
This morning, Macmillan made a sentimental trip to Spencer, Indiana, where his mother, Helen Belles Macmillan, grew to young womanhood, and where the former prime minister's maternal grandfather, Dr. Joshua Tarleton Belles, an 1851 graduate of Indiana Asbury, is buried. Spencer citizens arranged a wreath-laying ceremony at the Belles grave and held a brief reception for Mr. Macmillan.
'To my dear mother I owe everything," Macmillan said later during his speech at DePauw. "There are perhaps some who still remember her and her outstanding qualities ... Now, at the end of a long life, I am coming home again to my mother's country, to the state where she was born, and to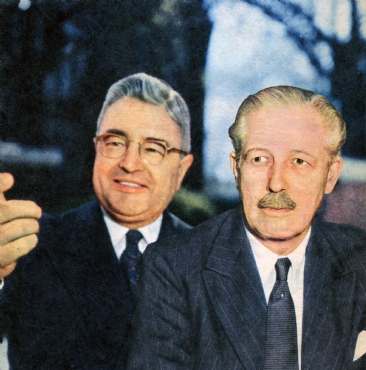 the University at which my grandfather, Joshua Belles, was (educated). So you see, I can claim to be returning as a Hoosier to the place and people from whom I am sprung."
Upon his return to campus, Macmillan lunched with students at President Kerstetter's home, held a question-and-answer session with DePauw faculty members in the Memorial Student Union and then returned to the president's home for a dinner before his address. His visit was covered by several television stations and more than 20 reporters and photographers. (at right: composite image of former DePauw President Russell J. Humbert and Harold Macmillan with East College in background, which appeared on the cover of the June 8, 1958 Indianapolis Star magazine)
For a summary of Harold Macmillan's June 8, 1958 address, "Interdependence", at DePauw, click here. Also available is video of the complete speech. Color footage of the visit 10 years ago is also included in a DePauw admission film, excerpted here.
Back