Former Prof. Julia Ann Crawley Shumaker '33 Passes Away at Age 98
May 2, 2011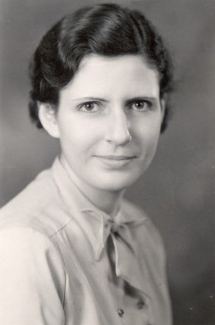 May 2, 2011, Greencastle, Ind. — Julia Ann Crawley Shumaker, a 1933 graduate of DePauw University and member of the faculty during the 1940s, passed away Friday, April 29, in Greencastle. She was 98 years old.
Born in Greencastle on November 4, 1912, Shumaker graduated from Greencastle High School. She received her B.A. degree from DePauw University in 1933 and her M.A. from the University of Illinois in 1936.

A second-generation educator, Shumaker taught Latin, Spanish, French and English at both the high school and university levels. Her career began at the Indiana Soldiers' and Sailors' Children's Home, where she taught from 1933 to 1939. During the 1940-41 school year, she was on the faculty at Ursuline Academy in Louisville, Kentucky, before returning to her college alma mater to join the Romance languages department at DePauw.

After her 1947 marriage to Arthur W. Shumaker '34, professor of English at DePauw, Shumaker continued to teach part-time at DePauw until 1956 and also tutored students in her home. From 1965 until her retirement in 1979, she taught Spanish and English for the Greencastle Community School Corporation.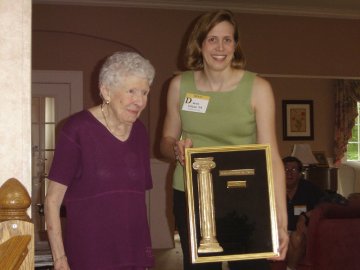 She was preceded in death by her husband, who passed away in 2000.
Julia Shumaker was a generous supporter of numerous historic preservation groups, including the National Trust for Historic Preservation, the Historic Preservation Society of Putnam County, Historic Landmarks Foundation of Indiana and the Putnam County Museum.
On June 11, 2005, Shumaker was honored by her sorority, Delta Zeta, with the Ionic Column for her longtime service to the organization (seen in photo at right).
A full obituary is available at the website of Greencastle's Banner-Graphic.
Back