Greek Organizations Donate $4,000 to Putnam County Community Foundation
May 10, 2011
May 10, 2011, Greencastle, Ind. — "DePauw University's Interfraternity Council (IFC) and Panhellenic Council (NPC) have donated $4,000 to the Putnam County Community Foundation to fully endow the Endowment for Fraternity and Sorority Philanthropy initiated in 2006," notes an item in Greencastle's Banner-Graphic. "DePauw's Greeks hope to strengthen bonds between the university campus and the Putnam County community, while highlighting their value of service to others."
According to the text, "The endowment creates the opportunity to award grants to charities in Putnam County and for the Interfraternity and Panhellenic councils to meet each year to discuss philanthropy. Together, the two councils hope to choose a different organization to receive the grant annually. Plans to add additional funds to the endowment each year are under way, and the intent is to keep increasing the grant size." (photo: Putnam County Foundation Executive Director Elaine Peck [back, left] is joined by DePauw University students Tyler Witherspoon, Shelby Bremer, Elisa Sunshine, Katherine Janowski, Daniel Barth, Mitchell Turnbow, Will Trumaine, Megan Murphy, Abbey Ginn and Sumeru Chatterjee)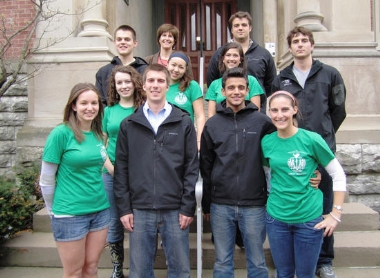 "I am hoping that our grant-making activities unite two important communities within Putnam County," says Megan Murphy, a DePauw junior and director of philanthropy and service for Panhellenic Council. "I am thrilled that we have finally completed this exciting endowment. Not only does it impact our relationship with the community this year, but for years to come."
Read more at the newspaper's website.
Also available is another recent article about the volunteer efforts of DePauw students.
Back