Julia Shumaker '33 Honored by Delta Zeta Sorority
June 11, 2005
June 11, 2005, Greencastle, Ind. — Julia Shumaker, a 1933 graduate of DePauw University and a former member of the college's faculty, was today honored by her sorority, Delta Zeta, with the Ionic Column for service.
The former Julia Crawley was initiated in Delta chapter of Delta Zeta on March 8, 1930 and has been involved in the affairs of the sorority since. "She has held practically every office of the Greencastle alumnae chapter and currently serves as secretary," notes an announcement from DZ." Julia served as province president (equivalent to today's regional collegiate coordinator) working with all the Delta Zeta chapters in Indiana and she worked with the Alpha Beta chapter at the University of Louisville. She has also served on the Delta Zeta House Corporation."
She previously was recognized with the Acoth Award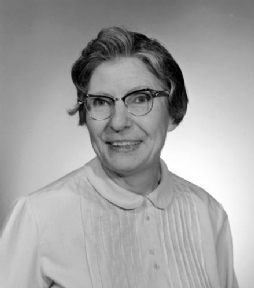 at Delta Zeta's 75th anniversary convention in Columbus, Ohio in 1977. (at right: 1967 photo)
Throughout her career, Shumaker taught Latin, Spanish, French and English at both the high school and university levels. Her career began at the Indiana Soldiers' and Sailors' Children's Home, where she taught from 1933 to 1939. During the 1940-41 school year, she taught at Ursuline Academy in Louisville, Kentucky, before returning to her college alma mater to join the Romance languages department at DePauw.
She continued to teach on a part-time basis after 1947, serving as part-time instructor in Romance languages (1951-53) and part-time instructor in Spanish (1955-56).
Back