Women's Golfers Begin Quest for NCAA Title Tomorrow
May 9, 2011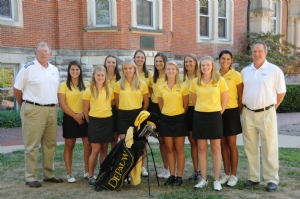 May 9, 2011, Howey-in-the-Hills, Fla. — DePauw, ranked first by Golfstat.com and second in the latest coaches' poll, is seeded first at the NCAA Division III Women's Golf Championships which start tomorrow at the Mission Inn Resort. The four-round tournament wraps up on Friday. DePauw's tee times begin at 12:30 p.m. on Tuesday.
The Tigers are making their 10th appearance overall at the Division III Championships and 10th straight after finishing sixth last year. In its nine previous appearances, DePauw has placed second in 2007 and 2008 and third from 2003 through 2006. They also were fourth in 2002.
DePauw's 10 appearances rank third in the 12-year history of the event behind Methodist's 12 and Wisconsin-Eau Claire's 11. The Tigers' seven top-four finishes are second only to Methodist's 11 as the Monarchs have won all 11 previous titles.
The Tigers have won six of this year's 11 tournaments including the Southern Collegiate Athletic Conference Championships and enter the NCAA Championships with a 316.3 stroke average.
Taylor Beaty leads the way with a 79.3 stroke average followed by Paige Gooch at 79.8. Kelly Gaughan follows with an 80.2 while Camila Romero averages 80.9 each round and Natalie Gough 81.2.
Follow DePauw Athletics on Twitter | Become a Fan of DePauw Athletics on Facebook
Back