Arts Administrator Brian Hersh '99 Featured in Florida Newspaper
May 14, 2011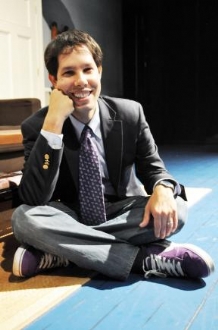 May 14, 2011, Greencastle, Ind. — The transition of Brian Hersh from musician to arts administrator is featured in a story published by Florida's Longboat Key Observer. Hersh, a 1999 graduate of DePauw University, is currently education and outreach director at the Asolo Repertory Theatre in Sarasota. (photo courtesy Longboat Key Observer)
"Ten years ago, Brian Hersh was a drummer living New York City," begins the article by Heidi Kurpiela. Armed with a music degree from Indiana's DePauw University, Hersh, an Ohio native, jammed with hard-rock bands and folkie singer/songwriters at bars and coffee shops.
'Celebrities would come to our gigs,' he says. 'It was cool.' Cool, but not professionally fulfilling. Hungry to make a difference, he signed up to be a mentor with Big Brothers Big Sisters, for which he was paired up with a 13-year-old boy, whom he often took to museums, concerts and cultural landmarks around the city. It was a relationship that would change the course of Hersh's career. "

"I realized that I could reach more people as an arts administrator than as a drummer," Hersh says. "From that point I was on a new path."
He spent five years administering the Lincoln Center
for the Performing Arts' "Meet the Artist School Series," which reached more than 20,000 students each year. He's been with Asolo Rep since 2008.
The newspaper details how Hersh helped launch a collaborative program with the Florida State University/Asolo Conservatory to produce plays for young people and how it has grown into a major outreach effort.
"This season's production of Antigone Now, which opened Oct. 4, reached more than 10,000 students in just six weeks," writes Kurpiela. "The cast and crew made 40 stops at schools and community centers from Tampa to Punta Gorda." Next season's traveling production of Hamlet recently received a $25,000 grant from Publix Super Markets Charities.
"Everybody studies Shakespeare in school, but to see it performed in real life … doesn't that instantly make it more exciting?," Hersh asks.

Access the complete text at the Observer's website.
Back