Prof. Carla Edwards to Perform at Regional Convention of Organists
May 20, 2011
May 20, 2011, Greencastle, Ind. — Carla Edwards, Cassel Grubb University Professor in the DePauw University School of Music and University organist, will perform at the American Guild of Organists' regional convention on June 13. The event takes place in Lexington, Kentucky, June 12-16.

Dr. Edwards' performance will include Prelude and Fugue in C Major by Johann Sebastian Bach; Organ Sonata No. 3, "Nach alten Volksliedern" by Paul Hindemith; Partita sopra "Nun lasst uns Gott, dem Herren" by Vincent Lübeck; Wachet auf, ruft uns die Stimme, Op. 8, No. 2 by Hugo Distler; and Organ Sonata No. 4 in B flat major, Op. 65 by Felix Mendelssohn-Bartholdy.
Edwards received a bachelor of music degree with highest distinction from the University of Kansas, a master of music degree from the University of Alabama and a doctor of music degree in organ performance from Indiana University. Her organ studies have been with Larry Smith, Delores Bruch, James Moeser, Catharine Crozier, Robert Noehren, Michael Schneider and Warren Hutton.
She has performed extensively in the United States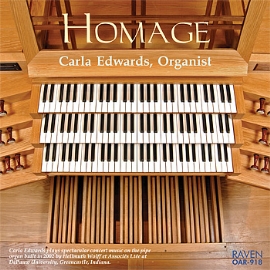 and her performances have been broadcast on the nationally syndicated radio program Pipedreams. She has made frequent appearances as a convention artist and performed 12 concerts on a tour of Finland in August 1990. Edwards won the Region V American Guild of Organists competition in 1985, was a finalist in the AGO's 1986 National AGO Competition, and won the 29th annual Fort Wayne National Organ Playing Competition in 1988.
This spring, Professor Edwards released a new compact disc, Homage.
In 2009, a 4-CD set issued by the Organ Historical Society, Historical Organs of Indiana, included performances by Edwards and had several other DePauw connections. Learn more in this previous story.
Back