Tigers in Fifth with One NCAA Round Remaining
May 12, 2011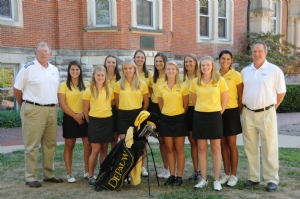 May 12, 2011, Howey-in-the-Hills, Fla. — Top-seeded DePauw shot a third-round 332 and dropped a spot to fifth with a tree-round 997 at the NCAA Division III Women's Golf Championships at the Mission Inn Golf and Tennis Resort.
Methodist leads with a 966 followed by Gustavus Adolphus at 978, Illinois Wesleyan at 991 and St. Mary's (Ind.) with a 992.
Taylor Beaty and Paige Gooch are each tied for 14th at 247 as Beaty shot a 79 today and Gooch an 82.
Camila Romero is tied for 26th at 251 after shooting 86 this afternoon followed by Kelly Gaughan in a tie for 37th at 255 with today's 85 and Natalie Gough in a tie for 41st with a 256 following today's 87.
The Tigers are making their 10th appearance overall at the Division III Championships and 10th straight after finishing sixth last year. In its nine previous appearances, DePauw has placed second in 2007 and 2008 and third from 2003 through 2006. They also were fourth in 2002.
DePauw's 10 appearances rank third in the 12-year history of the event behind Methodist's 12 and Wisconsin-Eau Claire's 11. The Tigers' seven top-four finishes are second only to Methodist's 11 as the Monarchs have won all 11 previous titles.
The fourth and final round takes place on Friday.
Follow DePauw Athletics on Twitter | Become a Fan of DePauw Athletics on Facebook
Back