Senior Meets with Governor and Possible Presidential Candidate Mitch Daniels
May 13, 2011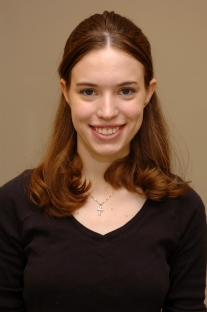 May 13, 2011, Greencastle, Ind. — An Evansville Courier & Press recap of last night's speech by Indiana Governor and potential presidential candidate Mitch Daniels at the state Republican Party's spring dinner includes comments from a DePauw University senior. "About 60 college students who are members of the group 'Students for Mitch' -- founded at Yale University but since expanded nationwide -- said Daniels' fiscal record is the reason for their efforts to recruit him into the presidential race," reports the newspaper's Eric Bradner. "Those students met with Daniels for 25 minutes Thursday night, ahead of the dinner."
Margaret Musgrave, an Evansville native and classical civilization major and economics minor at DePauw, was one of them. Daniels is expected to announce soon whether he'll enter the 2012 race for the White House. "I got the feeling that he was really excited," Musgrave is quoted in the story.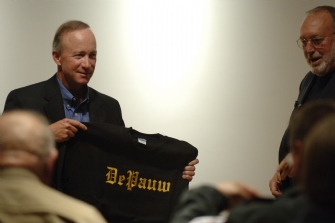 You'll find the complete article at the Courier & Press' website.
Musgrave was also interviewed in a March 30 report by Indianapolis ABC affiliate WRTV on an effort by DePauw students to live without cellphones, e-mail and other mobile communication technologies for a full day.
Governor Daniels has made several visits to DePauw, including one on October 24, 2007 (seen at right).
Back