Indianapolis Star Examines Personal Philosophies of Brad Stevens '99
May 15, 2011
May 15, 2011, Greencastle, Ind. — "I've always said that part of growth is just doing it every day," Butler University head men's basketball coach Brad Stevens tells the Indianapolis Star. An article in today's newspaper examines the personal philosophies of the successful coach and 1999 graduate of DePauw University. "Don't talk about it. Do it. Be it," says Stevens.
Robert King writes, "As Stevens' and his team's successes mounted, fans and media observers began to look beyond his mastery of X's and O's to his focus. They began to wonder how such a young coach could seem so content at a small school, even though bigger paychecks lay elsewhere. And they wrote of his unflappability, even in tight spots. Stevens talked about being happy at Butler and about the school's values, which have come to be known as The Butler Way -- selflessness, hard work, servanthood and humility. But he never inserted his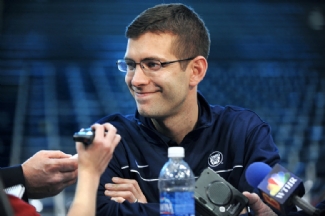 personal faith into the conversation."
"He is a classic Indiana United Methodist," says Judith Cebula, director of Butler's Center for Faith and Vocation. "He is steadfast in his religious practice. He is very quiet about his religious practice. He doesn't wear it on his sleeve. He does not need to speak about it in any specific or overt ways. He lives it."
The article notes, "Stevens and his wife, Tracy [Wilhelmy '99], have actively supported the American Cancer Society, including hosting a basketball tournament last week at Butler. And they have financially supported the Interfaith Hunger Initiative, which feeds hungry children locally and in Africa. But both say they need to do more. 'We have a sense,' Tracy said, 'that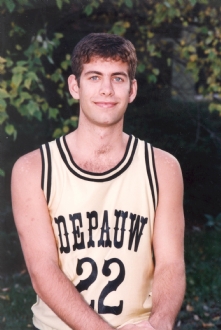 to whom much is given, much is expected.' "
Adds Brad Stevens, "If you win or if you lose, it's not going to matter as much as the relationships. And the result is not going to matter as much as the lessons."
You'll find the complete story at IndyStar.com.
This spring, the 34-year-old Stevens led Butler to its second consecutive national championship game. Stevens, who has been head coach at Butler for four years, was an economics major and Management Fellow at DePauw, where he played on the Tiger basketball team.
On April 13, 2010, Stevens returned to his alma mater to deliver the Robert C. McDermond Lecture, in which he touched on some of the themes noted in today's article.
Back