Six Terms are Enough for Indiana County Commissioner Steve Holt '70
May 18, 2011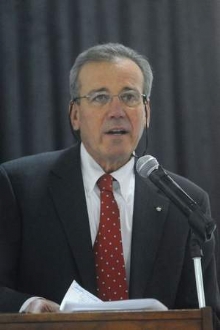 May 18, 2011, Greencastle, Ind. — "Seven terms seems like a bit much," says Steve Holt, a 1970 DePauw University graduate who announced yesterday that he will not seek re-election next year after serving six terms on Indiana's Hamilton County Commission. "I'm actually surprised I served more than two," he tells the Indianapolis Star. "I'm glad I've had the opportunity to serve and make a difference in my community." (photo: Gary Moore/Indianapolis Star)
Robert Annis writes, "Holt, 62, who lives near Arcadia, has served as one of three county commissioners since he and fellow commissioner Steve Dillinger were first elected in 1989. He mentioned improvements to 96th and 146th streets and overseeing construction of the Government and Judicial Center and the Community Correction facilities as a few of his highlights in office."
A partner in the law firm of Holt, Fleck & Romine, Steven A. Holt is active in a number of organizations, including serving on the executive committee of the Hamilton County Alliance, as a member of the executive committee of the Conner Prairie Board of Directors, the Hamilton County Drainage Board, and the Hamilton

County Plan Commission.
Read more at IndyStar.com.
Back