Prof. Matthew Balensuela Receives Accomplished Alumni Award from BGSU
May 18, 2011
May 18, 2011, Greencastle, Ind. — C. Matthew Balensuela, professor of music at DePauw University, is the recipient of an Accomplished Alumni Award from Bowling Green State University. A total of 23 BGSU alumni were honored at a dinner last Friday, May 13.
"The Alumni Awards dinner is an important opportunity to recognize the many accomplishments of our alumni," says Montique Cotton Kelly, director of alumni affairs at Bowling Green State University. "I am humbled to be surrounded by so many talented and generous people."
According to the institution, "Honorees are recognized as the most accomplished graduates among more than 162,000 living BGSU alumni.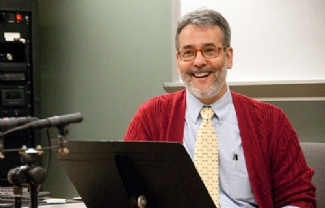 Each award recipient was chosen by a committee based on the recommendations of his or her peers, and each has mastered a diverse talent or skill during their education at BGSU."
Read more here.
Professor Balenusela earned a B.M. from the Juilliard School in saxophone performance, M.M.s in both music history and woodwind performance from Bowling Green State University, and a Ph.D. in musicology from Indiana University. He was also featured in this previous story.
Back